"Sometimes I get teary-eyed because I don't have one of them in prison, and I haven't been to the graveyard."
Debbie Ford, the mother of Kansas City Chiefs outside linebacker Dee Ford and his two siblings—a brother and a sister—made sacrifices for her kids, many of which they weren't aware of until much later in life.
A simple trip to McDonald's had her telling her kids, "I'm not hungry," when they asked why she wasn't getting any food.
It wasn't the truth. She just couldn't afford food for everybody.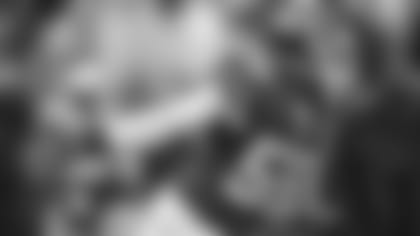 Debbie, along with her husband, James, raised their three kids in rural Alabama in the small town of Odenville, which has a population of less than 5,000 people and sits about 30 miles Northeast of Birmingham.
She spent years working two jobs as a licensed practical nurse (LPN).
Her day would begin at 5:00 a.m., and she'd work that job until 1:00 p.m., take some time for lunch, and then head to her next job by 2:00 p.m., where she'd stay until 10:00 p.m.
It was a routine when her kids were in high school, but Dee, who she now affectionately refers to as her "problem child" because of how he acted as a kid, got in trouble and was forced to go to an alternative high school.
That school was 25 minutes out of the way and forced her to leave work early so that she could drive him to school every day.
"I wasn't able to drive at the time," Dee recalled. "So those long drives [caused me] to sit there and think, to be embarrassed and feel bad because my parents did so much for me. It's unbelievable what they accomplished. They constantly beat the odds and here I was, putting them in this situation.
"That was the turning point in my life."
Debbie recalled those drives and the messages she was trying to send as they spoke each morning on the way to school.
"Son, you need to take this time in your life and think about where you want to go and where you want to be," she recalled telling him. "Do you just want to be like others? Do you want to be like your peers? Which peers do you want to be like?'
"Every day, we would talk about where he wanted to be and where he wanted to go to."
There she was—sacrificing her time and putting everything she had into giving Dee and his siblings everything they needed to succeed, and Dee wasn't taking advantage of the opportunity she was providing.
"That's the way I felt," she added. "You don't have a reason to get in trouble. I'm working my butt off to give you everything you need. All I want you to do is go to school, get your education and do what you're supposed to do.
"James and I were 16 and 18 years old when we got married. The parents that we were to our kids, we didn't have."
The message she was trying to send was received.
Those drives were one of a handful of turning points that led Dee down a path that would ultimately bring him to the Kansas City Chiefs, and three years into his career—he's one of the best pass rushers in the league.
While those conversations with his mom in the car had an impact, Dee recalls a conversation with an assistant basketball coach at his high school that he credits to changing his outlook as well.
"I had one particular coach who sat me down and told me how talented I was with football, basketball and even with my music," Dee, who is an accomplished pianist and owns almost a dozen keyboards to this day, explained. "He recognized it but told me I was wasting it all."
Dee wasn't a bad kid. He just wasn't always focused.
The coach who had the conversation which Dee recalled from so many years ago is Ryan Chambless, who is still coaching high school athletics down in Alabama and said he hasn't spoken with Dee since a few days after he was drafted by the Chiefs back in 2014.
Upon hearing the affect he had on Dee with that "tough love" conversation more than a decade ago, Chambless was taken aback.
"It honestly floors me and blows my mind that he would even remember me at all at this point," Chambless said over the phone. "But you always hear – I read stuff from coaches, quotes from Bear Bryant, Coach K, all these different coaches – they talk about how you don't know the influence you're having on these guys or girls that you're coaching.
"I do remember speaking to Dee (back then), and it wasn't just Dee, I talked to other guys like that, but some guys take that to heart and for others it just falls by the wayside."
When asked, Dee said he's not sure why that particular conversation with Chambless had such an effect.
"I don't know," Dee explained. "I think God puts people in our lives for a reason. [Coach Chambless] had always known me and was always that type of person to try and help. I really started taking everything seriously from that point.
"I don't think he knows that he had a major impact on me."
Chambless now knows of that impact.
"It's humbling," Chambless explained. "He's worked tremendously hard. I can remember getting to school early in the morning and Dee would sometimes beat me there. I like to lift in the morning just on my own at 6:00 a.m., and Dee would be in there before I was, and this was during basketball season too, so he would be lifting on top of what they would be doing in practice.
"I think it says a lot to these other guys who have these dreams or aspirations of being something. It doesn't just happen—you have to work to get it and I think Dee did that. There was a time when his grades may not have been right there, but he knew he had to do something to get into Auburn and he got it done.
"I think the world of that guy, I really do."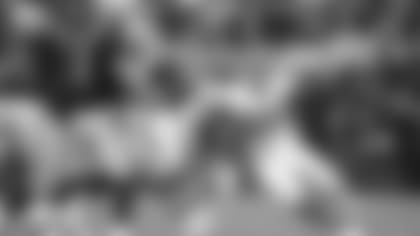 A few years later, while at Auburn, Dee had another one of those life-changing conversations or realizations after an assistant coach, Tracy Rocker, who now coaches the defensive line at Georgia, called Debbie to let her know that her son had been late to some meetings.
They had a zero tolerance policy and Dee wasn't living up to his potential.
"[Dee] called me on the phone one day and said, 'Mom, I'm calling you to apologize. Coach Rocker told me that I need to stop putting you through this. You're running up and down the road trying to make sure I stay in school, and that if I didn't want to do it for myself, I needed to do it for you.'
"From that day forward, I never got another call from another coach," Debbie added. "For me, that was one of the turning points."
The message was received.
Dee turned it around and finished his college career with 93 tackles, 20.5 sacks and after being named the Senior Bowl MVP leading up to the draft in 2014, was the Chiefs' first-round pick (No. 23 overall) that year.
After a couple of years needed to develop at this level, Dee currently ranks sixth in the league with 10 sacks, coming through for his team early in the season when All-Pro Justin Houston missed some time coming back from offseason knee surgery.
The journey from troubled teenager to NFL star hasn't always been smooth, but it has made this season that much sweeter for the Ford family.
"The first time Dee started (last year) and they called his name out in the starting lineup," Debbie recalled. "I was strong, I did not cry, but his daddy was sitting up in the stands and just wept.
"I mean, he was crying— everybody around him was crying. Every single fan around him was crying and giving him hugs."
While most people see Dee as a breakthrough star this season, the people who have been there from the beginning don't see him as a star—they see him as that teenage kid who had to make a choice on whether or not to live up to his potential.
"As he got older and went to college, instead of, 'Mom, can I have?' It turned into, 'Mom, one day I'm going to give you.'"
His musical influence, which Dee believes has made him a better football player, started with his father telling each of the kids that they had to learn an instrument when they were growing up.
"It's just a different side of your brain that you need to activate," Dee explained. "I tell people all the time that they need to activate that side of their brain. There's a whole different side to you that you don't even know that you have.
"I can pick up anything super fast and you can tell me something and I won't forget it. I feel like I can learn and do anything."
Dee credits many people in his life to helping him get to where he is today, including his family, coach Chambless, coach Rocker and about a dozen others, but those who have been there from the start—through all of the criticism over the past couple of years, this year has been special.
"People don't understand—it's not about money or things, and I truly mean that from the heart," Debbie explained. "We are not exempt from hard work or scared of hard work. It's really about the success of the child. Dee has made us very proud and his success has motivated his siblings.
"My daughter just finished nursing school and my son, he started out as a minister, but he's now an IT engineer. Dee's success has helped a lot of us grow."
From helping his own family to helping the Chiefs, there's one proud mom in the stands every Sunday who isn't afraid to let those around her know how she's feeling.
"I am animated," Debbie explained of her attitude on game day. "I am not quiet at all. I would start a whole cheering section. I haven't missed a game yet, not one.
"Dee tells me all the time, 'You love to talk.' I say, 'No, I'm just proud.'"
With their story, there's every reason to be proud.