If a woman was in active labor, would it stop her from getting an autograph from former Kansas City Chiefs players?
This year for Alumni Day at training camp, there were seven Chiefs' alums who went to Mosaic Life Care in St. Joseph to visit with patients after Sunday's morning practice.
"We love the partnership Mosaic Life Care has with the Kansas City Chiefs," Joey Austin, who runs Media/Community Relations for Mosaic Life Care, said.
"Our patients were excited to see the [Chiefs Ambassador Program] group, and it meant so much to them. To be able to lift their spirits, laugh and take time to enjoy the moment is priceless.
"It's a win-win for both organizations," Austin added.
The alumni visited patients in cardiology, oncology and to finish it off, the OB/GYN wing.
A soon-to-be mother sent out her husband with footballs and a onesie, not to return until he had collected the signatures of the all the alumni.
The final stop in the OB/GYN wing was congratulating a family that recently had a baby girl.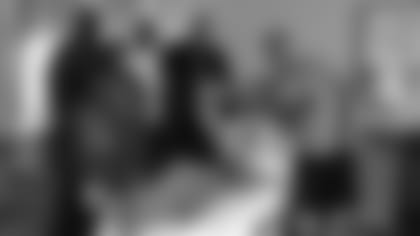 Of course a full family photo, including all the alumni present, was a must.
Former Chiefs defensive end Jimmy Wilkerson invented a word to describe Sunday's experience.
"Today [Sunday] was a fantabalistic day. You get to meet a lot of different people and cheer some people up.
"Seeing these guys and ladies in this type of condition, knowing that they don't want to be here, whenever you can have someone like us come in and cheer them up, it kind of helps them know that something good is going to come once they get out of here," Wilkerson said.
Two of Wilkerson's kids even got to tag along on the day's activities—not to mention adding their own signatures to items per patient requests.
Wilkerson said it was an awesome experience for his boys and hopes they also learned something from it.
"Hopefully they not only learned from this, but grow and go out into a community of their own and do the same," Wilkerson said.
Alumni Day also allows for generations of Chiefs to see not only what's in store for the future, but remember the foundation upon which it was built.
"I love having the alums out here. I just think that's very important," Coach Andy Reid said. "They're Chiefs. They gave up a lot of sweat and tears for the organization, and so I think it's important that they feel a part of it."
"They get to meet the younger generation and the younger generation gets to meet them and the foundation they built for them," Reid added.
And that foundation still holds value to current players.
"No matter what level of football you're in – high school, college or professional – you kind of represent the people that have played before you, and they take pride in who they've played for," Chiefs center Mitch Morse said. "So you not only play for yourself, you play for those guys who paved the way for you and kind of paved the foundation for the kind of respect that the Kansas City Chiefs have."
Reid explained he loves having the alumni in the mix, not to mention the great job they do.
"They're active," Reid said. "(Chiefs Chairman and CEO) Clark [Hunt] has set it up so they can be that, and they really care about our players, which is a really neat deal."
Alumni Day is just one of many opportunities alumni have to be surrounded not only by the game they love, but to give back to the community as well.
"I think what they do for the community is special, especially when we as a team aren't able to reach out all the time," Morse said. "I think these guys do a fantastic job of representing us because they've done it."