First impressions are powerful. First impressions are immediate. And, let's not forget, you really only get one chance to make that all-important first impression.
During the Kansas City Chiefs three-day rookie minicamp, the team's #1 overall pick Eric Fisher made the most of his opportunity.
"At this stage of our development, he's all of what he thought he was going to be," Chiefs head coach Andy Reid said of Fisher. "I just wanted to see how he picked things up physically and mentally, the techniques and the scheme. I thought he handled that well; it didn't seem like he strained with that at all. I think we're all excited to get him in here and let him move around a little bit, see what he could do and he handled this fine."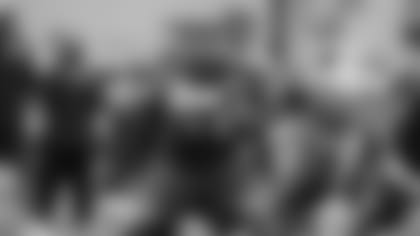 Coach Reid isn't the only one believing that Eric Fisher is as good as advertised.
"Absolutely he's worth it," Chiefs offensive line coach Andy Heck said of Fisher. "He was my favorite offensive lineman in this draft. He's a guy that I felt could help this football team. We've added a tremendous offensive lineman, a guy that I think can excel in this league, play at a high level and we're adding him to a solid group and that's just going to make us better as a football team. I'm very pleased that we were able to add a football player as good as he is."
Asking Fisher to move from left tackle to right tackle, a position he last played in 2010, during his sophomore year at Central Michigan, was just part of the assignments given to the rookie during camp.
"When we lined him up on the right (side), which we knew we'd do, I hoped to see him make a little bit of improvement, in terms of feeling comfortable over there each day and I definitely saw that," coach Heck said. "From the first day, he had a great attitude about it, was working at it and made some minor adjustments the next day and looked better and more comfortable at it. The other thing is too, we put in some installations, we put in some plays and to be able to digest that and then take it from the classroom to the field,  he was very sharp on his assignments."
The Chiefs top pick was pleased but not satisfied with his weekend performance.
"I felt I got better every day," Fisher said. "A very-productive three days. I'm really starting to get ahold of the system. As you learn it, you have more fun playing it; when you don't know what you're doing, you can't really have much fun, so, I'm really trying to pick it up as fast as I can and I'm looking forward to OTAs now."
OTAs are just a part of the next steps, where Chiefs head coach Andy Reid looks forward to seeing Fisher progress.
"I'll be curious to see this next step and how he handles all the stuff that we put in with the vets, playing against those guys," coach Reid said. "Training camp will be another step; I understand that you have to do that, you have to take the steps. It looks like it's becoming more natural for him, technique wise at the right side. He had done it so long at the left side and I know he talked about just retraining the motor skills on that side and it looks like he went through that process; it looked smooth."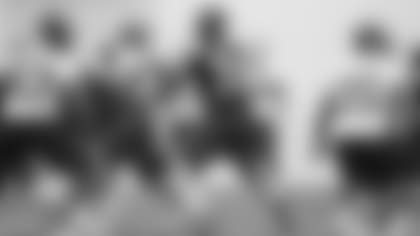 Part of Fisher's weekend success is due to his discipline and work ethic, not just on the field but also in the classroom.
"He's gotten in his book," Chiefs OL coach Andy Heck said of Fisher. "He is a conscientious student of the game. He is coachable and he's got a toughness and a grit about him that I really like."
You don't get to be the NFL's top pick without having a matchless work ethic, a desire to learn and a proper perspective; Fisher has all three and then some.
"Obviously, they're (coaches) going to be hard on me and they're going to expect a lot from me and I think I learn better when people expect a lot out of me," Eric Fisher stated. "Wherever I can help this team out, I'm going to be willing to play there. I'm hoping to learn from him (Branden Albert) because obviously, he's a great tackle and he's really put himself in a good situation. I'm just really looking forward to learning from him and all of the other guys."
During the three-day camp, besides practicing football, Fisher and the rest of the Chiefs rookies enjoyed learning more about each other, as well as former Chiefs greats.
"The rookie dinner was fun," Fisher admitted. "It was cool hanging out with the guys, outside of football and meeting some of the great players that have played this game. Just hearing the stories and how they got to be so great; there's a lot more than just playing football to be a great football player. I'm really looking forward to the next however many years I'm here (to) just being able to get the stories of my own."
The rookie camp was one of many tests that Eric Fisher will face in 2013 and Chiefs fans will be pleased to know that he passed with flying colors, while looking to only get better at his "new" position.