Kansas City Chiefs' Head Coach Andy Reid spoke with the media on Friday afternoon following Kansas City's season-opening victory over the New England Patriots.
Here's five things we learned from what Reid had to say.
1. All-Pro Safety Eric Berry will miss the remainder of the season
Berry ruptured his Achilles tendon in the fourth quarter of Thursday night's victory over New England, ending his season.
"As far as injuries go, Eric Berry is probably the one we need to talk about. He did rupture his Achilles tendon, so he'll be out," Reid said. "Whatever moves are made, (General Manager Brett Veach) is on that and working on that right now, but Eric won't be playing."
Berry recorded seven tackles (4.0 solo), including a tackle-for-loss, before suffering the injury in the fourth quarter. While his season appears to be over, the eight-year veteran doesn't want his absence to affect the rest of the team's mentality on the field.
"He had an opportunity to talk to the team last night after the game and I know he would be very disappointed if anybody hung their head or let that be an issue, Reid said. "I thought the guys handled it very well, even after Eric got hurt. The guys know Eric would be disappointed if they let off in anyway at all, so I think we'll be okay there."
2. Reid was impressed with his defense on Thursday night, notably linebacker Justin Houston and safety Ron Parker
Houston, who was limited to just eight snaps due to injury when these two teams met in the playoffs two years ago, recorded 2.0 sacks on Thursday.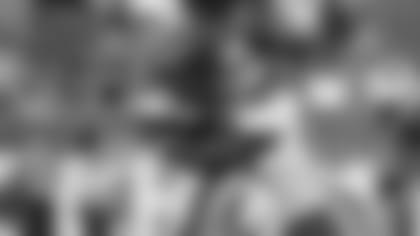 "I thought Justin really played well, both in the pass game and the run game," Reid said. "I thought he tackled well - really I thought the whole defense tackled well. They hustled to the ball. There were catches made, but they were catch-tackle type things, and against that crew, that's important. I thought Justin played a very solid football game. He absolutely brought a ton of emotion to the game and to the defense."
Parker, who was listed as questionable prior to the game with an ankle injury, led the Chiefs in tackles with 11 (10.0 solo).
"Ron Parker had been slowed down a little bit with a sore leg, so for him to work through that I thought was a big thing. He's a tough kid. He's got a little bit of an ankle sprain and it was slowing him down a little bit during the week and he pushed through it and was able to get out there and play at a high level. Listen, we can all do better, so there are things he could have done better, but I thought he tackled great, kept the coverage tight and stayed aggressive."
3. Reid enjoyed the challenge of going up against Patriots' Coach Bill Belichick
Reid and Belichick are two of the most successful head coaches in NFL history, with Belichick ranking fourth all-time in wins while Reid ranks 10th.
"I love going against great coaches and he's a great coach," Reid said. "You know they're going to be prepared and have everything covered, and then it comes down to the chess match of the plays your coaches call and how you execute them- situational football. We spent a lot of time working on that and I thought our guys, for the most part, and listen we have a ton to work on, but for the most part handled the situational football well. When you have two good teams playing each other, it's going to come down to those little things like that - field position, red zone, two minutes, four-minute situations, short-yardage situations, the goal line situation - all those things become a real factor. I thought between special teams, offense and defense, everyone handled it fairly well."
4. Reid was pleased with how the Chiefs calmed down after a tough start
The Chiefs found themselves facing an early deficit but managed to control their emotions and keep the game close before pulling ahead in the second half. Reid recalled talking about that very process earlier this week in practice.
"They did. We talked about it a little bit on practice (earlier this week). We talked just about emotion and how you have to learn how to play at a high level with your emotions," Reid said. "There's a different emotion that goes with practice and with games, so you want to try to keep that margin between the two as narrow as you can by practicing a certain way. They worked through that in practice and then they worked through that same thing, almost identical, during the game there. You could see them saying, 'hey, let's just calm down here a little bit. We're kind of playing out of our box here let's get back to getting back to doing what we can do and playing the way we know we can play,' and they did that. I'd tell you both sides of the ball did that, not just defense."
5. The Chiefs weren't distracted by all the fanfare on Thursday
The Chiefs played in their first-ever season-opening game on Thursday as the Patriots celebrated their Super Bowl title prior to kickoff. Though there was plenty going on away from the field, Reid noted that the Chiefs didn't lose focus.
"I know Bill Belichick and the players know their players and we know they're really not into that," Reid said. "That's more show than the actual game and if they had a choice, they probably wouldn't want to do that. We understood that, too. We didn't think that would slight their production on the field, their aggressiveness, their schemes or anything like that. The level of play wouldn't mess with that. We tried to stay away from getting caught up in that and just making sure we were right and didn't worry about them or what they're doing. Let's just make sure we're right and go out there and do what we do."