Everything has come full circle for former Kansas City Chiefs reporter Josh Looney, who was introduced as the eighth Athletic Director in Missouri Western State University history Tuesday afternoon.
Looney, who spent seven years with the Chiefs (2006-12) in various roles, including working in media, marketing and public relations capacities, spent the last year as the Athletic Director at East Stroudsburg University in Pennsylvania.
It's almost poetic that Looney, who left his role with the Chiefs before the 2012 season to go to work for the NCAA in hopes of becoming a Division II Athletic Director one day, was introduced in the press box that overlooks the field on the campus where he once used to work for three weeks in the summer.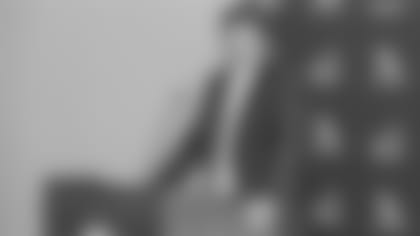 (Looney at Tuesday's presser - Courtesy of John Ellis - MWSU Athletics)
During his press conference Tuesday afternoon, Looney spoke about the decision he and his family made by taking that leap of faith after Chiefs' training camp in 2012.
"It was a really tough decision for our family to leave Kansas City and leave the Chiefs' organization, which had helped me grow," Looney explained. "The Hunt family was such an unbelievable group to work with. We were about to make a transition from professional sports to college sports, and it was a big decision for us, because we loved Kansas City, this is home.
"We said we don't know when we'll be back, we just hope one day we'll have that opportunity," Looney added. "And for that opportunity to be on this campus where it kind of all started, it's incredible how those things work themselves out. It's pretty special."
Looney, who attended Blue Valley Northwest High School in Overland Park, Kansas, and played college football at Washburn, which also competes in the MIAA conference with Missouri Western, said his time with the Chiefs and the things he learned have helped him be in the position he finds himself today.
"I think more than anything, being able to work for multiple head coaches, multiple general managers, multiple presidents, and the Hunt family, plus the fact that the core values of the Chiefs' organization never wavered—you saw different ways that people tried to implement the Hunt's vision," Looney explained.
"That shows me there's more than one way to try to achieve the same thing, and the cultures they were going for," he added. "I've taken that to athletic programs, where our coaches can all run their programs differently. So, the football coach doesn't have to run the same way the baseball coach, but the core values all have to be aligned and together, and I think I saw that a lot with the Chiefs and certainly the Hunt family dating back to when it got there with Lamar—that's what it was about and no one loss sight of that."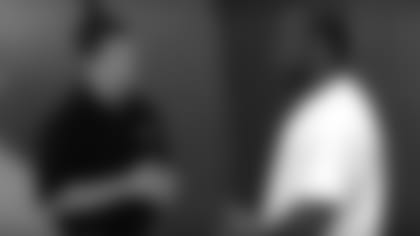 (Looney, back in 2011, interviewing a young Tamba Hali)
In addition to bringing his family back closer to where he grew up, and his parents getting to see their granddaughter, Parker, more often, Looney is excited about the next chapter in his life at Missouri Western.
"It's a great responsibly to shape and develop young men and women on a college campus and to have a hand in that through athletics," Looney said. "It's a responsibility that we won't take lightly, and what I can guarantee you is that this athletic department will be one that this community and everyone here is proud of, and every single day when we come to campus, we'll be proud to wear the Griffin on our hearts, and we'll be lucky to be working here every single day."
Looney, whose parents are still Chiefs' season ticket members, is also excited about getting back to Arrowhead every Sunday in the fall. "I'm excited to see a Griffon win on Saturday, and a Chiefs win on Sunday," he laughed.