On what he learned from the game against the Bengals: "The goal was to get everybody in the game and everybody on tape so we can make a good evaluation of everybody. Those guys are working extremely hard in practice. They deserve to play. Guys like Fred (Williams) and Jerrell (Jackson) and Albert (Wilson) when he was in there, they did some nice things. Not only in the passing game but in the running game and they're taking pride in that."
On WR Junior Hemingway in the slot receiver role: "Because he's bigger in size, he's a little more versatile for us, meaning, [in] the run game. We could use him in there as a blocker. And he's big enough to use him over the football where there's traffic with linebackers and safeties. And he's physical enough to bang guys around and get open in there. So we can mix and match the versatile speed with the power guy as well."
On RB Jamaal Charles' ability to pass protect: "I'm going to tell you that he's working his tail off. I mean that's the first thing I think of. Coach (Eric) Bieniemy has done a great job with all the backs. But Jamaal has taken pride in that. That's something he had to sort of learn last year and he's taken it forward this year and he's done a nice job. Give credit to Jamaal because he's taken pride in it and he's doing a good job."
On the role of pass blocking in the Chiefs offense: "I think it's no different than any offense. And one thing you have to do with guys like Jamaal (Charles) and De'Anthony (Thomas) and even Joe McKnight, guys that are fast, skilled receiver-type running backs—they have to block. And we're going to ask them to block and they're going to have to pick up blitzing linebackers and safeties and they've all done a good job."
On what has kept T Ryan McKee from moving from the practice squad to the 53-man roster: "Effort, hustle. I mean I was that practice squad guy several years ago and the fact that [it takes] heart and desire. And the fact that he wants to and it's more of a personal battle with him and a challenge with him wanting to do good and stay on the field."
On C Eric Kush: "He's another one that has increased his strength. And he's done a better job with his fundamentals and technique. A lot of it with hand placement and feet, you preach about that all the time with offensive linemen. He's done a nice job but the strength for him—he came in here strong, but he's gotten stronger."
On what he looks for in a wide receiver that makes the final roster:"First of all, they have to understand our offense, number one. We move them around so much. Dwayne (Bowe) is not always on the outside, he's in the inside. Tight ends are not always outside, they're inside. The same with running back.  So, you look for the mental capacity and how much they can handle. Having the ability to defeat bump-and-run because in the National Football League, you have to be able to defeat bump-and-run. And then can they sustain down the field? Meaning blocks, routes, separation [and] understanding coverage. Those type of things create a receiver we can use in this system."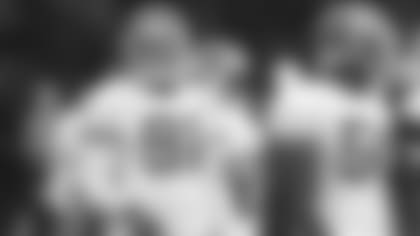 On being more vocal at this time:"I mean these are the grind days. At this time in camp, a lot of guys can shut it down. And I remember playing basketball. There comes a time when you hear the coach screaming your name and out of nowhere, you play better. So we're out there getting our guys going by talking, screaming and yelling out their name—telling them to make plays. Just to keep the energy up—it gets them going. And everyday I hear from the guys that say 'You got me through practice just by doing it.' And I look forward to doing it."
On the second year with Coach Andy Reid: "They've gotten a lot tighter on the little things. Last year, they came in [and] they let a couple things slide with us. But now, we have to focus on the little things. They've given us the breakdown on teams that have success. The first year, usually it's much tougher. We start to slip on doing the little things. But except for that, they're the same people, they're the same coaches. They still get on us if we're making mistakes. And they just do what they do best as coaches and we're just going along with it."
On what he's hoping to gain in the last week of training camp: "When we start camp, we go four plays [or] five plays. Now we're running 18-play drives. So, from a conditioning standpoint, it helps. Mentally, you have to be able to know what's going on—while we're on defense, knowing what the offense is coming out in [and] knowing how to adjust in it and still play at a top speed."
On the pass-rush capability of this team: "This is a real good group we have. We have about five [or] six guys that can be in the game at the same time, that can get after the quarterback. I've never been around that. Not in college and not in the league. And that's pretty awesome to have—a bunch of guys that you don't have to count on one guy because there's a couple guys that can make plays too. And that's kind of good for our entire defense and team."
On new defensive schemes featuring pass rushing: "He (Bob Sutton) is just using the pieces like it's chess. Putting all his best players out there, allowing them to do what they do best. We have about five guys [or] six guys that can rush the passer so he puts us out there. We call it a dog front. He wants to see bunch of dogs go after it."