On today's practice: "Good work today. Again, a lot of work. We got a lot of things done. So, I feel positive about the guys and the effort that they're giving. As far as the game (against Carolina) goes, I really don't have play time. I can tell you what I normally do is the one quarterback gets the first half and then we kind of go from there but I haven't set that with the players or the coaches yet."
On S Daniel Sorensen's game against Cincinnati:"He actually played pretty good against Cincinnati. He had a lot of good snaps. You get an idea of the speed of the game once you get into game time. Each one of these preseason games gets a little faster and a little faster and then the season's faster than that. But it was good for him to get in there and get that experience."
On what Sorensen brings the Chiefs:"It looks like he's a solid football player. We need to see more. But it looks like he's a smart kid, solid player, was a good tackler in that game [and] did well with his coverages."
On how far TE Demetrius Harris has come: "He was a basketball player when he got here and he's transformed himself into a football player. And there's something that goes with that: that physical part. Not that basketball is not physical, but this is even another step up. And you have to do it day-in and day-out and that's what he has done."
On what C Eric Kush does for the offensive line group:"You talk to him for five minutes and you feel it. He's going to look you in the eye and then every play, he's going to give you 110 percent. Whether it's right or wrong. So he's got a mixture going right now. He's got to continue to get better, but if he's going to make a mistake, it's 100 miles an hour [and] if he does it right, it's 100 miles an hour and you appreciate it."
On the impact the tight ends can make: "This offense has been tight end-friendly over the years. So, to have three, four [or] five of them that can play for you out here is a good thing. We just have to see the numbers that you keep. Normally, [it's] varied between two and three tight ends, so there are some pretty good battles going on."
On LB Tamba Hali's impact on fellow teammates:"One thing Tamba does, besides being a great player, is he works his hands every day. And so he's really incorporated that in teaching all the linebackers that. And Gary Gibbs is big on that too."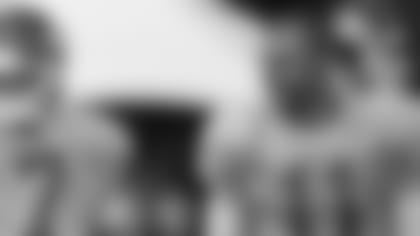 On what stood out to him after watching Cincinnati game video: "Hold onto the football. That was the biggest play for me in my little rack there. You look at two 3rd and shorts that we didn't convert—one on the run play [and] the last one there, the pass play. [There was] miscommunication there with the receivers and you just can't have it."
On whether the team looks at who wins the training camp practice day (defense or offense):"Absolutely. It's daily. It's a daily deal. And it's even incremental. There's different situations. Today was short yardage and goal line, so that's kind of its own competition with the defense. Can we get him? And then we do seven-on-sevens and it's third downs and it's are we going to get him there? No question—you kind of have a feeling for the day—who won the day. And that's the goal. That's the competitiveness that we have in this locker room and that's what it is every single day. Guys are going to go out here to make plays against each other and that's a good thing."
On what he thinks about when he sees linebackers Tamba Hali, Justin Houston, Dee Ford and Josh Martin on the field against him: "I mean mostly, I try not to look at those guys. I'm looking down field at the secondary or linebackers. But it's great practice. Great practice all the way around. It's great practice up front because those guys apply so much pressure and they're so good."