On today's practice:** "All and all, it was good work. I thought the guys came out and challenged each other. We had some long drive periods, some red zone work and again, they traded back and forth and I just thought it was good work all the way around."
On S Malcolm Bronson: "He's done a nice job. He's a smart, smart kid. He's not the biggest kid. He's smart and he understands the scheme, he understands leverage on receivers [and] he's not afraid to get in there and tackle so, he's done a pretty good job."
On having TE Anthony Fasano healthy: "He is healthy [and] he came back in phenomenal shape on top of that so, he knows what is expected of him. He knows this is a tight end-friendly offense and he was disappointed last year. He knew what kind of offense it was and you could see the frustration building up on him when he was injured. He wanted to be a part of it. So now he's healthy, he's out here and he's enjoying every day of it."
On the amount of say assistant coaches have on roster decisions: "We want them to stand up for the guys they believe in. At the end of the day, it's a joint effort and (John) Dorsey has 51 percent of the say on it."
On G Zach Fulton playing well so far: "We gave him a few more reps in there today. He's played solid football is what he's done. He's a good football player and he showed us that [he's] probably a little bit better than we anticipated for where we picked him. So he's come in and [he's] very intelligent and tough."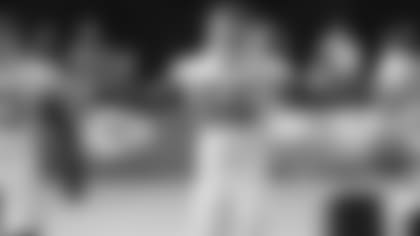 On seeing progress from the young players: "I've seen a lot of improvement. Cyrus Gray has been a guy that's running with that second and third team. [He] gave me a move yesterday that I got to get him back for. It's one of those things where the level of competition from the twos and threes are going way up. I mean, Knile Davis, I can't say enough about him [and] you know Jamaal is doing his thing, so we got a lot of depth here at the Chiefs right now, especially at the running back position. Competition is up and it's making the linebackers a lot better."
On RB De'Anthony Thomas: "He's a guy that's going to create mismatch and you get nervous when you got him in the game. I had the running back today, man-to-man, and I look up and it's number 1 in the backfield, and that's not a running back to me. So, it's one of those things where you got to be on your toes. In this offense, he's doing great. He's one of those guys that's going to create the mismatch for the linebackers. He's going to help us this year."
On having DT Dontari Poe on his side: "It's wonderful. Dontari Poe is going to be here for a while. He's a guy that's the middle of our defense. The times he doesn't make the play, he helps make the play. It's one of those things where my success goes straight to him and the other guys, Devito and Bailey and those guys who are doing the hard work up front. Our defensive line is one of the best in the league and our nose tackle, he's hell to deal with."
On how hard it is to intercept QB Alex Smith: "It's tough. Alex definitely tests you on the defensive side of the ball. That's great for us knowing we have a quarterback that's not wild with the ball. He's a quarterback that's going to manage the game [and] make safe decisions. There are times when he's going take his shot, but he's safe with the ball."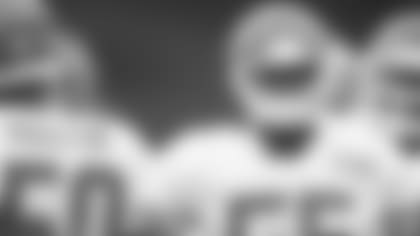 On improving his pass rush during camp: "You got to always perfect your craft. It's never going to be perfect, whether you're false-stepping or [want to have] quicker hands, you can continue to critique yourself. I'm never going to be satisfied with my pass rush."
On checking in with his family while at camp: "My momma is mad me because I haven't really been talking to her. I said 'Mom, I'm grown now. I can't call you every day.' But they'll be all right. I've been seeing them, they've been around for long. This whole journey from the Senior Bowl to the national championship, all of that, to the draft process, to now. We've all been close, the whole family. And we still talk but not right now. This is a grind. Moms don't understand the grind. My dad, he gets it, but my momma don't."
On what makes a great pass rusher: "Any player that plays with effort. It's really all about effort. Sometimes you're going to get sacks. Sacks aren't playing. You just have to work your move and you have to trust it. But you have to play with your hair on fire."