On practice today:** "Good work today. We changed up practice a bit so we beat some of the heat and did it in the morning and the guys worked hard. So [this was] basically our normal Thursday practice. [We] covered all the situations we do on Thursday (in the regular season)."
On the offensive line: "We're rotating people around and we'll keep doing that until we're satisfied with who the five best [players] are and we'll roll from there. I don't really care about positions right now. I just care about getting the five best out there."
On whether he thinks T Eric Fisher will ready to go for week one: "I do. He keeps getting better every day so that's important. That's what happens when you have a surgery like that, you have to work through it. He actually probably had the best day out here today. You just keep working and it's small steps but you keep plugging away."
On whether injuries are making going into the game against Minnesota more difficult: "I don't care about all that. The next guy's in and we roll. I mean it's simple that way. If you can play, you can play and if you can't, you can't."
On LB Frank Zombo getting snaps at the inside position: "We've been doing that with him. With Joe (Mays) down, we go ahead and give him an opportunity to take some snaps."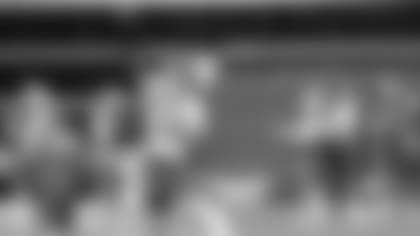 On WR Frankie Hammond Jr: "Frankie's like Mr. Reliable all offseason [and] all training camp. Every time he's out there, he knows what he's doing. [He] makes plays and he showed it in the preseason these last couple games. When his number gets called, he's been ready and beyond that, he's going out there and he's playing aggressive and cutting it loose. He's a guy that knows all the positions. We move him around and I know in the quarterback room, he's demanded a lot of respect because of the way he goes about his business."
On whether offensive line rotation affects the quarterback: "It doesn't. That's the way it always is—why wouldn't you play your five best? I think that's every team's mentality. There's always moving parts for a lot of different reasons—injuries being the main one. It's a tough place to play up front and those guys get banged up so you got to have usually more than five. I don't know if I've ever played a season with just five. It's the nature of the game, so guys got to step in and they have to work as a group. It has to be cohesive and I really feel like quarterbacks are part of that but it's all through communication, but really when the next guy's in, I'm not thinking about that by any means."
On his goals for the game against Minnesota on Saturday night:"Score some touchdowns [and] win the game. You'd love to go out there and you'd love to have success every single play and that's our goal. That's what we're striving for. Is that the reality always? No. That's what we're striving for every single play is go out there and execute and be successful. But with that, as an offense, our job is to move the ball and put some points on the board. Last week, we struggled in the red zone for a lot of different reasons, so this week, it would be nice to capitalize on some of those drives."
On whether he has ever felt completely satisfied headed into the regular season: "It's never good enough. You're never content. You're always striving to get better at something. There's always something and it's always different. Every year is different. I didn't know what to expect. This week, it's to go out there and play and win and play well. [I'm] not even thinking about next week yet at this point."