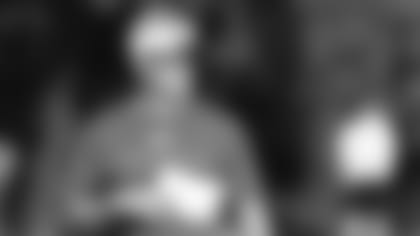 On if this Thursday's play-calling mentality: "This first game, we let everybody play. We're going to get everybody in the ball game and we want to get everybody on film and make a good evaluation of all our players."
On what he likes about G Zach Fulton: "When he came in here, he was eager and he was ready to go. Anytime a young player [is] like that with his athleticism, his knowledge of the game—he's a smart kid, he's sharp. He's a humble kid. It speaks volumes for Zach and given the opportunity now, going forward, we'll see how it ends up."
On Fulton getting work at the center position: "Even at Tennessee, he has had some snaps during practice situations at center and we're always looking for those guys up front that could play guard, center, tackle—the swing-type guys. And the more guys you get exposed to different positions, it's just going to help your football team and give you depth."
On the strategy of calling plays in the preseason: "The bottom line in any preseason game and really this first one is you want to keep it simple. You want to let the guys play fast and execute. And we've thrown a lot at them in these first two weeks of camp and now we can kind of cut it down and streamline it so to speak to give them an opportunity to play fast."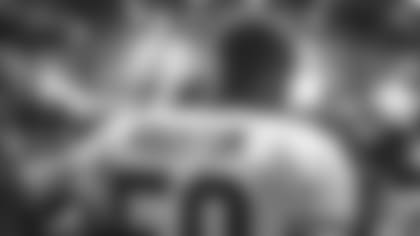 On the makeup of a perfect pass rusher: "Somebody that can do it all. They got speed, they got power, agility, can go inside, outside, can rush and use hands. [They] can do it all."
On how being on the field with fellow linebackers Tamba Hali and Dee Ford will affect other teams: "I think it's going to be very effective. It's a lot more speed out there at one time so it's going to put a lot of pressure on the quarterback."
On whether he feels comfortable in defensive coordinator Bob Sutton's system: "Yes. Last year was the first year in this system and now, this is the second year. You start getting more comfortable knowing the little things that you can do to help better yourself in certain situations."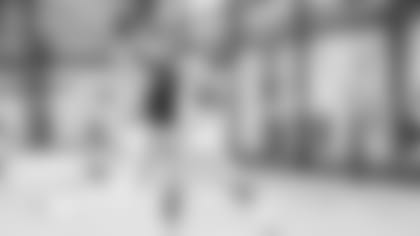 On progress with sore ankle: "I think the communication with the training staff and with coaches and everybody, I think that's really been helping out. I felt good today and it went well."
On the communication process:"We just made sure we're on the same page and Rick (Burkholder) has been doing a good job keeping me on a schedule and keeping me in the training room, making sure everything is good. I let them know how I feel and they ask me how I feel and we're very open and honest about it, and I think that's what has been helping me really progress so well."
On initial reaction to the injury: "It was just a little irritated. I just couldn't really plant like I wanted to. But I think we got the information back so quick and they (the training staff) attacked it so fast, I felt like they did a great job of helping me get back on the field so now it's just being more proactive and keeping it that way."
On the injuries to the secondary: "The thing we have been talking about is everybody is considered a starter in that room. And regardless if you're a three, a two or whatever, when you step on the field, you're going to be a starter. Everybody has that mentality so in the communication we have on and off the field, we bring that up a lot. It's got to be to a point where it doesn't matter who's in there, you got to step in and make a play and the communication can't slack off."
On S Malcolm Bronson: "During OTAs, he was ballin'. And like I said, I told him, 'When you're in the secondary, you're considered a starter regardless of where you're at. So when you step here, you got a starter mentality.' And he definitely did that. We're only going to be as strong as our weakest link."
The Chiefs practiced indoors on Sunday at Missouri Western State University.