As much of an impact as the Kansas City Chiefs deliver on the field, every player that suits up in the red and gold has the ability to positively affect their local community long after their playing days are over.
The Chiefs Ambassadors did just that early this week, beginning with a visit to nearby Camp Quality on Sunday. The group of former players – which included Trent Bryant, Keith Cash, Anthony Davis and Art Still – presented the non-profit with a donation before leading the dozens of kids in attendance, all of which had either beaten or are currently fighting cancer, through a variety of Play60 activities.
"These guys are heroes to these kids," said Crystal Davidson, Executive Director at Camp Quality. "Having somebody that's played football for the Kansas City Chiefs out here is outstanding for them. It's amazing because without camp – and these guys being a part of it – these kids wouldn't have a chance to experience something like this."
The Ambassadors have stopped by Camp Quality in each of the past seven years and, through their annual donations, are one of the reasons that the camp is able to serve so many kids.
"It's very rewarding to see some of the money that we give to the organization at work by bringing these kids to camp," Cash said. "The kids love to see us, but it probably brings us more joy seeing them."
The opportunity to still make a difference long after their careers have ended is something that makes the Ambassadors – a group unlike any other in the NFL – so unique.
"Football is a short game. I played six years, and I think the average is four, but I have my whole life to give to organizations like this," Cash explained. "I have kids of my own that are very healthy, so when you see these kids that have had different conditions by no fault of their own, if I can add a smile to their face, I'm going to do it every time."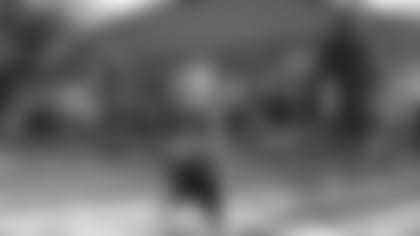 The Ambassadors were back out in the community just a day later, as Bryant and former center Tim Grunhard toured the World War I Museum located beneath the Liberty Memorial alongside members of Walking with the Wounded, a veterans' organization based in the United Kingdom.
The six veterans – three of which are from the United States – were in Kansas City as part of a 12-week long trek across the country designed to raise awareness for veteran mental health programs.
"It's just an honor to be here representing the Kansas City Chiefs and to be with these individuals that are making their way across America," Grunhard said. "They're bringing attention to some things that we really need to be thinking about – the wounded that have served both the United States and also Britain. It was just a great experience."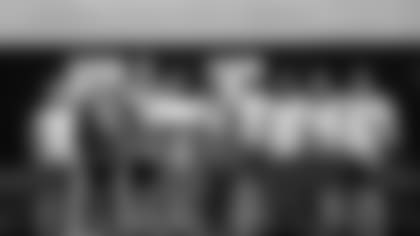 Both events stood as just two more examples of how the Chiefs' commitment to serving the community extends far beyond the final whistle.
"We were pretty fortunate to have the opportunity to play in the NFL," Still said. "We're all affected by different things, so we want to be as supportive in our community as we can. Maybe, we can make somebody smile in return."
Community
Chiefs ambassadors make a check presentation to Camp Quality and participate with the campers in a Play 60 activity.