BEEP! BEEP! BEEP!  5:30am. September 1, 2022. Let's go Matt, I thought to myself as I fumbled for the elusive "off" button of the always-annoying alarm. I slipped out of bed to start my morning routine. It was a routine that I'd perfected over a roughly twenty-six year career in the US Army.
"S*&% shower and shave," my dad used to say. What dad's morning-routine phrase lacked in finishing-school eloquence, he more than made up for it with practical life lessons learned from the School of Hard Knocks. Dad was an enlisted Army Soldier who had been assigned to 2-11 and 3-16 Field Artillery Batteries respectively, both in the Americal Division in Vietnam.
And then, on one fateful day, he was wounded-in-action, taking shrapnel directly to his head while assigned to a Special Forces base camp near Chu-Lai. Dad's artillery battery provided fire support for the Army Special Forces personnel that operated out of the camp. To his credit, he never lost his faith in humanity, despite the physical and emotional injuries he suffered "over there."
His service inspired my own.
With my morning routine finished it was time to get dressed, and more importantly, get moving.
One of the residual benefits of uniformed service is not having to worry about what you are going to wear to work. After a couple of minutes of staring at the clothes in my closet, I made my decision: Camouflage. Today I'm gonna wear camouflage.
I'm sure by now you're thinking, Yaaaaaaawn. Borrrr-ing. Camouflage. Really, Army guy? Camouflage? This is such a non-news event. Stay with me folks.
After putting on some dress socks, trousers, and a t-shirt I slipped on a smart-looking black and heather-gray camouflage pull-over. The shirt sported a small white arrowhead on the chest with black interior lining and a red "KC" graphic in the middle. The logo belonged to the two-time Super Bowl champion Kansas City Chiefs. This logo, and a variety of clothing sporting it, would be my uniform for the next three months.
For the next 90 days, I would have the pinch-me-I'm-dreaming opportunity of serving inside the Chiefs' headquarters as a military liaison. And today was my first day.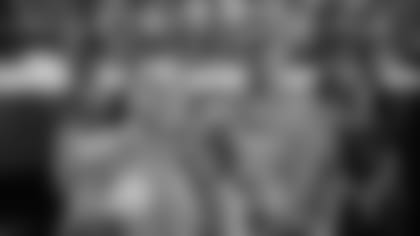 As I drove through Gate 5's entrance in the direction of GEHA Field at Arrowhead Stadium, I spotted the nearby company headquarters. Instinctively I lowered the car windows and reduced its speed to a crawl – all so I could take in the moment.
Somehow, someway, the air smelled sweeter, the wind felt fairer, and the sun seemed brighter over the Chiefs' Training Facility.
I sat in my car for a couple of minutes to reflect on the moment and how fortunate I was to be here. How grateful I felt. And I offered up a silent oath to my family and the military community not to let them down.
As I got out of my car and walked toward the entrance, I wondered: what's it gonna be like in there? Would I fit in? How would they react to having an active duty Army officer in the building? Would I be able to make a positive difference during my time with the team? How would they treat me? What should I do if I bumped into a player or one of the coaches in the hallway? What if Mahomes and Kelce asked me to go bowling? So many questions left to be answered.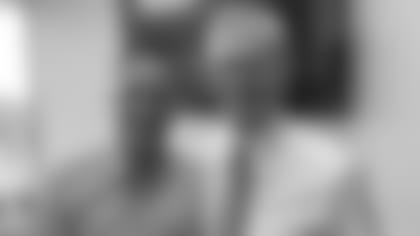 The moment I walked inside and saw the four pillar statements of the franchise boldly displayed on its tall broad walls I KNEW I was in the right place: Honor Tradition, Inspire Our Fans, Unite Our Community, Win With Character – these are the values of the Kansas City Chiefs.
What I learned on my first day is that these values are not mere platitudes – the organization lives by them.
I imagine the founder of the Chiefs, Lamar Hunt, is looking down at the four pillars with an approving smile on his face.
Today was my first day at the Chiefs, and I wanted to get this down on paper before it all ran together.
Be on the lookout in the coming weeks for more stories of my impressions and reactions about a Soldier's time at the Kansas City Chiefs, Helmet to Helmet.
** Disclaimer. Matt's views expressed in this blog do not represent those of the US Army, merely his own thoughts and impressions. In no way do they reflect the official position of the military or the department of defense.