It's been over two months since Kansas City Chiefs QB Alex Smith arrived to town via trade with the San Francisco 49ers. From the moment he was introduced by Chiefs general manager John Dorsey and head coach Andy Reid as the team's new QB, Smith admitted that Kansas City was the place he wanted to be, excited for the challenge of turning this franchise around.
"I'm ready for this," Smith said in March. "I feel like because of what I've gone through, you grow as a player, you grow as a person. I'm ready for this. This is a new opportunity for me. I can't say how excited I am for it. I'm thankful for the opportunity and I'm here to get to work and make the most of it."
Fast forward through voluntary workouts and OTA sessions, while embracing new tweaks and schemes (including influence from Pistol innovator, Chiefs consultant, Chris Ault) to the offense and Smith's attitude remains just as positive.
"It feels good," Smith said. "It feels like we've got the ball running; we've got that wheel turning. It's just a matter of keep running, keep going. It's a good feeling being in the middle of it, in the middle of football and back in the grind of things. They're throwing a lot at us. Every day they're throwing a lot at us. The defense throws a lot at us. I feel like we're getting great work."
Alex's response, following an OTA practice, to the Ault hiring, spoke further to the professionalism he brings each and every day to the practice field and locker room.
"Excited," Smith admitted. "He was here a few weeks ago. He came in and spent a few days with us. It's a wealth of knowledge. For me, being exposed to it, playing with Colin (Kaepernick) and the little bit we were doing back there in San Fran, I got a little bit exposed to it, and then a few days with him, got me excited. I think it's a great addition."
Regardless if Smith is operating out of the Pistol or taking snaps from under center, his wide receivers will be a vital part of the offense in 2013.
"It's a talented group," Smith said. "For us, it's a group. We work hand-in-hand as QBs and receivers. We work with each other; can't have one without the other. We have a big group, a lot of talent and a lot of guys with different strengths is what kind of jumps out at you at first."
The Chiefs defense, which has been flying all over the field during recent OTAs, now has a better understanding of what exactly Smith brings to the table.
"He's a smart QB," Chiefs LB Derrick Johnson said. "He's a QB that gets in and out of the huddle really easily. His communications skills are great. Defensively, if we show him a certain coverage, he's going to know exactly what it is, so, on that part, we have to do a lot of disguising; we have to be straight on with our defenses, we have to execute, if not, Alex will pick us apart."
Chiefs CB Brandon Flowers agreed.
"He's a poised guy," Flowers said. "He doesn't get rattled, he's poised, on-point. When a ball is supposed to come out, it comes out on time to the right target and he makes smart decisions."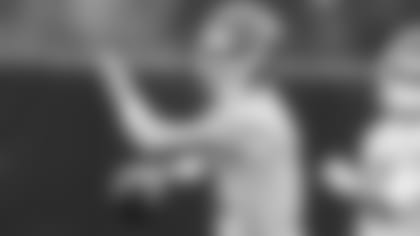 Smith has not only accepted the role as one of the team's leaders, he's embraced it.
"He's been a great mentor," Baldwin said. "Alex is going to demand it from you; so, I'm just going to go up there and ask him where he's going to expect me to be and I'll be in that spot. Those kinds of things help when you're communicating with your QB and understand where he wants you to be and where the ball placement is going to be on certain throws."
The team's new QB has strong decision-making skills, which have aided his ability to adapt to each and every offense that he's been asked to lead.
"When it comes down to execution, you have to be able to execute in all of those areas," Smith said during OTAs. "I think that's the goal for every offense, though. Every offense tries to be multi-faceted and give as many problems as they can to a defense. To a certain extent, throwing them all at us right away and being able to take them and run with them. That's what every offense is trying to do and we're no different."
Smith is a quiet but confident leader, who is working hard to help the team give this fan base what it deserves, a championship, beginning first with a division title. His mission continues on Tuesday, when the team begins another round of OTAs.