The Kansas City Chiefs are expecting much bigger things from their wide receivers in 2013. The team's wideouts are coached this year by David Culley, who is the master of getting the potential of each of his players to be showcased on Sundays, Mondays, Thursday nights, well, you get the picture.
One of coach Culley's wide receivers this season is Mardy Gilyard, who spent a brief time with the Philadelphia Eagles in 2012, under then-head coach Andy Reid and coach Culley, primarily as a punt returner.
Fast forward to Feburary of this year, when the Chiefs signed Gilyard, hoping he can help stretch the field with his speed, while also demonstrating his ability to catch the football. Gilyard is off to a great start, for among many reasons, a familiarity with the team's offense.
"I'm the only receiver in this receiving corps that been in this offense for a while," Gilyard said. "So, on my end, I try my hardest to get all of our guys to be on the same page, the little nuances that I know that coach doesn't like or want."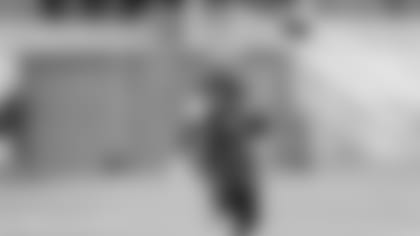 Part of being a successful wide receiver is having good hands, which Gilyard says is a message he's heard from a very early age.
"As a receiver, you've heard it all the time," Gilyard said. "They tell you on TV, they tell you in college, elementary or little league, whatever, 'That guy has good hands;' they always tell you that to be a good receiver you have to have good hands, because if you catch it with your hands, you can do so much after that."
Another factor in being a productive wide receiver is having great players with you on the field, and in Gilyard's case, off the field, as well.
"(Dwayne) Bowe, he's become a big brother to me," Gilyard said. "I'm over at his house every day; me and him literally wake up and talk to each other about what's going to go on with the day. We come in, we're a couple lockers down from each other and just his work ethic, how he carries himself on and off the field, he shows you how to be a true pro and he's been successful at it."
When the Chiefs offense is clicking, Gilyard found three adjectives, showcasing alliteration, to describe it.
"Fast and furious and fun," Gilyard said. "Fast, furious and fun because if we're fast and furious, we're going to have fun with it, that's flat out simple."
Described by Bowe as the funniest guy on the team, Gilyard truly lights up the locker room with his energetic personality.
"I live life every day," Gilyard stated. "I've been cut five times and so being cut five times, you're kind of like, you don't want to come in and be a guy who's angry, be quiet, that's not me. We have the best job in the world. Everybody watches us; everybody knows us and that's fun. That's fun to be put up on a pedestal, because it forces you to be the best person you can be. If I come in and I'm down and I'm not with it, Bowe will come to me and be like 'Are you okay?' If I'm quiet, there's something wrong, so, I come in and try to put the lightning bolt in the guys and let them know that we're going to have fun today, but we're going to get our job done at the end of the day. Bowe knows I have a story for everything because I've been through so much stuff, so if something springs a story, it's going to be told."
As talented as Gilyard is, I asked him why he thinks he's been cut five times.
"I don't even know, to be honest," Gilyard said. "I never got a reason, any of the times."
Regardless of the reasons he was released, the fact is, Chiefs GM John Dorsey and head coach Andy Reid believe in Gilyard, who has persevered and is ready to make the most of this opportunity in KC.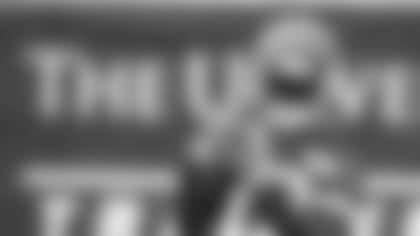 "I've been through so much up until this point," Gilyard admitted. It's like, at this point of my career, I'm just trying to find a team and a set of coaches and a general manager that trusts me and likes me as a player. Switching from team to team, I'm getting switched from teams half way through the season, stuff like that and being cut from a team in training camp and brought right back, cut again and brought right back, things like that kind of play with your head as a player, so, I just try to work hard, do my job; they brought me in to be fast, they brought me in to stretch the field and I'm going to try my hardest to make sure I do that every day."
Another factor in being a successful wide receiver is playing with a guy who can get you the ball.
"Alex (Smith) this guy came in, took the offense, learned it like a scholar," Gilyard admitted. "Of course, he's not going to know everything just now, but by the time training camp comes, we're going to be flawless. When you go to (Chiefs QB) Chase Daniel, I call him "Little Buff Chase," he has a cannon for an arm; for him to be an undersized 'Q', a short guy, he puts the ball where he needs to put it and he's angry when it's not there. He's right under Alex, whose work ethic rolls over to him, which rolls over to Ricky (Stanzi), which rolls over to Tyler Bray, so, if you're leader's good in the bunch, which Alex is great, it kind of snowballs."
Gilyard's sense of humor and prankster-like personality further helps with team chemistry.
"I just try to keep the guys on their toes," Gilyard said. "We're always joking, me Josh (Bellamy) Bowe, you got Rico (Richardson) you got Frankie (Hammond), Copp (Terrance Copper) he's the granddad out of the bunch, so he just laughs, he doesn't do too much joking on guys."
Gilyard's philosophy is, if you're attitude isn't great, your performance likely won't be either.
"If you come into work thinking, "Man, I have to go to work today," that's probably not the occupation you want to have," Gilyard said. "You want to be able to come into work and be like "Yeah! I'm going to work!" And so, with me being me, guys come and are like "I wonder what in the world Mardy's going to do today?" I keep them on their toes, keep them fresh and keep everybody happy, because when you're happy at work, everything else just runs smooth."
That's exactly the way Chiefs fans hope to see their team's offense run, beginning as early as training camp.