He says that he would love to be an FBI agent. At 6-foot-6 and 338 pounds, Penn State's Donovan Smith certainly fits the part.
"I got my degree in three and a half years in criminology," he explained. "I wanted to be a forensic scientist but science is not my forte, so I kind of fell with becoming an FBI agent or detective.
"It's something I would love doing."
The other occupation Smith would love to be is a professional football player, and when he arrived at the Scouting Combine in Indianapolis Monday…
…he came in with a great deal of belief in what he can do.
"I'm very confident in my play and what I can do on the field," he said. "Either way it unfolded, I knew I could go out there and compete.
"It was just the competitiveness in me and the confidence I have in my abilities."
Besides ability, Smith offers a proven track record of versatility because of the amount of turnover he dealt with during his three-year career at Penn State.
"Having three different head coaches, three different offensive coordinators, you see a little bit of everything," he said. "Transitioning from college to NFL, it will be a big help. I've seen different things all over. It just helps me adjust quicker."
Entering the 2014 college season, Smith was also the only returning starter on the offensive line and the new-look unit had to build a rapport quickly for the season to be a success.
"It was great just overcoming the little things in terms of communication and stuff like that and being able to prosper through losing games," he said.
It was a year with many ups and downs—a four-game win streak, then a four-game losing streak—but through it all, Smith and the Nittany Lions stayed the course and went 6-6 and finished the season with a 31-30 win over Boston College in the Pinstripe Bowl.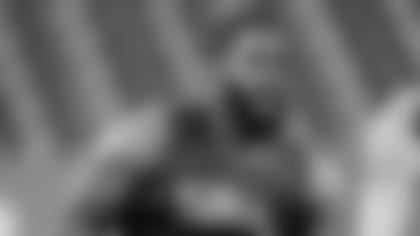 At the Combine, Smith said he was most excited about every on-the-field drill as well as all of the formal interviews.
He called it a "glorified job interview," which is a rather fitting description.
"If you're going to put that much money in a person, you want to make sure you do your homework and your due diligence," he said. "The interviews are very important."
In the events, Smith's most impressive numbers were posting a 32-inch vertical jump and a 109-inch broad jump despite being as big and bulky as he is.
The confidence he possesses comes with physical explosiveness, and it will be intriguing to see where he ends up.
If he winds up being one of the likely more than 10 names Kansas City calls, he said he looks forward to working with a familiar face.
"Mr. Tamba Hali, Penn State grad," he said. "Played there, did great at Penn State, and he's doing great at Kansas City. More power to him.
"He's going to continue representing Penn State and doing his thing and I definitely looking forward to seeing him."
Current Chiefs at the NFL combine throughout the years.