The Kansas City Chiefs announced some big news on Monday afternoon with the signing of veteran tailback LeSean "Shady" McCoy, who joins an already talented backfield ahead of the 2019 regular season.
Head Coach Andy Reid and McCoy each met with the media on Monday to discuss the signing and Kansas City's upcoming matchup against Jacksonville.
Here are five things that stood out.
1. Reid kicked things off by explaining why he and the Chiefs' front office still believe that McCoy can contribute at a high level.
"Just the tape. We looked at the tape. I have known him for a long time, obviously. There are not a lot of 31-year-old running backs running around out there, but he still has the great feet and the vision," Reid said. "The way we'll work that situation is that we're lucky to have [tailback] Damien [Williams] here who we consider a starter, as we do Shady. I think it's a great situation to be in, really for both of them and for the football team. They don't know each other, but they'll get to know each other here. I know they'll work well together."
McCoy has been one of the most productive tailbacks in the NFL since beginning his career in 2009. The former second-round pick – who Reid drafted while in Philadelphia – has the most rushing yards (10,606) and second-most touchdowns (69) of any player in that span. He's also one of just three players to log six or more 1,000-yard seasons over the last 10 years, joining Adrian Peterson and Frank Gore.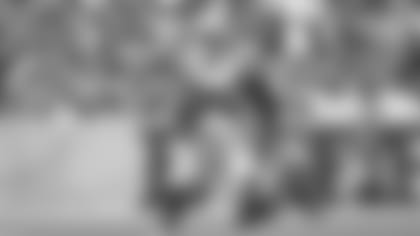 It's been an impressive career, to say the least, but Reid's initial expectations for McCoy are simple enough.
"[I expect him] to really learn the offense. This is different than what we did in Philadelphia. There will be some familiar things, but it's quite a bit different," Reid explained. "He's going to have to get in and learn it. Then, we'll just have to see how that goes. [McCoy and Williams] have an opportunity to play. I'm not going to put him out there in a bad situation without knowing the plays. I would never do that. We have other guys that can play, too, so I'm not saying that. That's where we are at."
2. Reid was later asked to explain the strong relationship he and McCoy have developed and maintained over the years.
"When he came into the league, he was young. He, Jeremy Maclin and DeSean [Jackson] - they were all young guys," Reid said, speaking of his days with the Eagles. "Jeremy and LeSean were the youngest ones in the draft, I believe, when they came out. I got them when they were kids and they had success. I was close with all three of those guys, just by kind of raising them in the NFL. He has a trust there and I have a trust in him. I know what to expect and he knows what to expect. He and [General Manager Brett Veach] are very close. Brett was responsible for us drafting him in Philadelphia. They are close from that standpoint."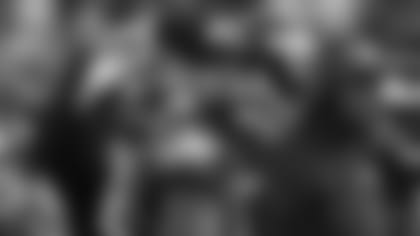 3. The addition of McCoy only furthers the excitement surrounding this team headed into 2019, but Reid insisted that those inside the building aren't distracted by expectations.
"Listen, that's all kind of outside buzz. Inside, you get to work," Reid said. "The one thing is we know how good Jacksonville is. I mean, they're a physical football team that is well coached. You better get yourself right, and we're playing at their place where it's loud and you have to get yourself ready for that. If you go about doing that, you aren't worried about the other stuff, you're focused on the team. I don't worry about it and I don't think much about it. I think - when it's all said and done - I don't think the players think much about it. They respect the opponents you play in this league. It's a very small margin of winning and losing in the National Football League. You have to get yourself right every week and if you do it right, you exhaust yourself, then you don't have much else to think about outside of that."
4. McCoy, meanwhile, explained why he chose to continue his career in Kansas City.
"When I had time to reflect on just how the season went last year and what type of scheme I wanted to be in, there were a group of teams that called in and I thought that this probably was the best fit for me," McCoy said. "You see the offense, I'm just trying to get in here and fit a small role. These guys are rolling. To be a part of that, I think we have a great chance at a championship. You have to pick a team that you want to play for, and I think the best part about it is Andy Reid, who has been one of my favorite coaches of my NFL career. He's had me since I've been 20 years old, now I'm at 31. We had a long talk. Brett Veach, [too, is] a guy that believed in me for years. This was the right fit, I think so."
McCoy enjoyed some of the best years of his career under Reid, surpassing the 1,000-yard mark twice and rushing for an NFL-most 17 touchdowns in 2011.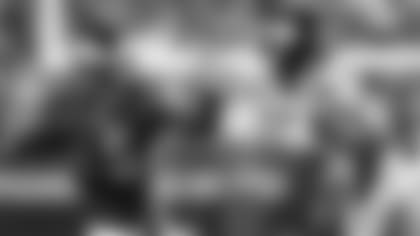 McCoy went on to explain what makes Coach Reid so special to his players.
"The biggest thing for me is that he has just always been honest, since Day 1. He shoots you straight. His family is the same way. As a coach, I've learned so much from him. Now coming here, I'm sure he can teach me different things," McCoy said. "I'm an older player and I want to stretch my career out as long as possible. I want to be productive, as well. I think just playing with him, the type of roles and set ups – and when you watch the tape of the offense and how they go up and down the field with small plays to big shots, [plus] utilizing all of the open space for his players. When you see that, you fall in love with that. He does a great job of getting the talent. A lot of these guys were drafted here, and they get better with time. He gets a lot of that credit."
5. And now a member of the Chiefs' locker room, McCoy was asked if this is the best shot at a championship that he's had in his career.
"I mean, you have to put the work in. Nothing is given to you in this league, you have to earn it, but if you just look at the players and the success that they've had, and there's also something about just being here, the players are all good friends," McCoy said. "Sometimes, when you have a lot of superstars, this guy has his own routine and it's different on the other side, but they're all on the same page [here]. That right there is special. Just to be a part of that, I think there is a realistic shot. I really do."
The Chiefs return to practice on Wednesday with the season-opener against Jacksonville just a few days away.