The Chiefs wrapped up Thursday's practice late afternoon at the University of Kansas Hospital Training Complex. With only three days until the season opener, excitement surrounds the locker room. Chiefs players are ready to kickoff the season and compete.
Offensive Coordinator Doug Pederson on head coach Andy Reid and his coaching style:
"I think the first thing I see from Coach Reid is, and you hear this term a lot, is he's a player's coach. What I mean by that is he loves to get in there with the players and roll his sleeves up and go to work. He loves teaching the game of football, and I think that's the biggest thing I've seen with Coach Reid here this season and even earlier in Philadelphia when I was there. He wants to get in there and he wants to teach. He loves teaching detail and the fundamentals of this game, and that's what makes the guys on the offense better. That's the biggest thing, and that's something I've learned from him, just being around him these past five years."
Defensive Coordinator Bob Sutton on how the defense is coming together: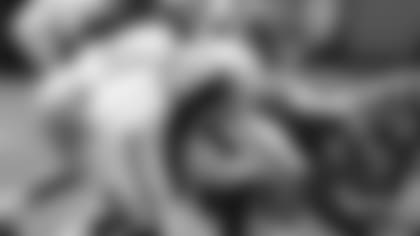 "They have worked really hard, not only trying to learn the system but also trying to improve. I think one of the things that you always feel as a coach is, if they are learning and working like they are right now, there's a comfort in that. That's really all you can ask someone to do, is prepare as hard as you possibly can, try to get yourself just a little bit better each day and I have to say, overall these guys have done a great job of that."
Special Teams Coordinator Dave Toub on the special teams unit:
"The guys are playing hard and buying into what we're doing. The kickoff coverage has been solid. The good thing is we have a kicker who can kick touchbacks pretty much at will, which is a nice thing. Earlier in the preseason, we had him just trying to boot them down there so we could test our coverage and they did a good job with that. The punt coverage has been good. I mean, we have the best punter in the league. The kicker and the punter, they make the coverage units. When you have those two guys, you're going to be pretty good."
WR A.J. Jenkins on his comfort level with the offense:
"I'm very comfortable. I've been studying my behind off trying to get right and studying all the playbook. I'm meeting with Coach Culley as much as I can. I'm more comfortable than I have been the last couple of weeks."
RB Cyrus Gray on the upcoming season opener:
"I'm so excited. Last year I didn't get a chance to play my first week because I was inactive so this will be my first real first game. I'm really excited and I know the team is ready also. I think we all get nervous at one point and time but it's routine, you've been doing it all your life, just go out there and make the play."
CB Ron Parker on coaching staff and being in Kansas City:
"The coaches put you in positions to make plays and I feel like I'm in a good position…I'm thankful for the opportunity to come and play here."
CB Sean Smith on starting the regular season:
"Going from preseason to week one is crazy. Preseason is more about depth; it's trying to see what your young guys can do, who's behind the ones and what not. Right now, it's go time. This is where it counts. Everybody is 0-0 and it's time for all the hard work you've been through, sweat and everything, it's time to put it on tape and make something special happen."
WR Donnie Avery on game week:
"It's just exciting to bring in the new 2013 Chiefs, putting last year behind us and moving on and having fun, bringing that excitement back to Arrowhead."
DE Mike DeVito on the chemistry of the team:
"Yeah, it's funny, because all the years I spent in New York, I feel like this team has gelled really fast compared to the different teams I've been on. Especially when you have a lot of different guys coming from different places, you still have a great foundation of guys over here. From OTAs to preseason, everybody has really come together quick. That's going with the playbook, going with the family and we've seen it on the field in the preseason, so we're going to continue to build on that and we're excited to finally get a real test."
WR Dexter McCluster on QB Alex Smith:
"A. Smith is a guy that notices progressions. He knows how to read defenses, and he doesn't force anything. If it's not there, he is going to get rid of the ball and live to play another down. He is a guy that wants to win – he's mobile, so he can keep plays alive. All we have to do is get open, and he'll get it to us."
T Eric Fisher on his preseason performance:
"I think I got better every week. You learn from your mistakes and you move on, there are always things to learn from and I'm just trying to better every day. I want to come to work every day and try to improve my game every day."