Training Camp is officially underway for the Kansas City Chiefs as quarterbacks, rookies and select injured players reported to Missouri Western State University in St. Joseph on Tuesday to kick off preparation for the 2019 campaign.
It's always an exciting time of year when the Chiefs begin camp as it essentially marks the onset of another football season, and when coupled with Kansas City's legitimate championship aspirations in 2019, the energy was real as players and coaches started to arrive.
Head Coach Andy Reid, quarterback Patrick Mahomes and rookie wide receiver Mecole Hardman each had a chance to talk about that energy on Tuesday during the first media availability of camp.
Here are five things that stood out.
1. Coach Reid is fired up to get back to work.
Reid has been doing this a while – 21 years, as a matter of fact. This marks his seventh training camp with the Chiefs, and after coming so close to the Super Bowl a season ago, there was no doubting Reid's excitement to get started on Tuesday.
"I'm fired up man. We can go one-on-one right here. I'm excited," Reid said with a smile. "I love doing what I'm doing. We're all privileged - all of us here. We're 1-out-of-32 in the whole world. It's a great experience for all of us."
Of course, that experience includes a ton of work. Reid went on to explain what he needs to see from the roster over the next three weeks to consider this particular camp a successful one.
"The execution. I've always mentioned to you guys that I challenge the quarterbacks, but if they throw an interception, I won't blow a fuse on it because there's a point where they have to challenge themselves to know exactly what they can get away with in the offense," Reid said. "If an interception takes place somewhere, I go, 'OK, we learn from that,' and then you get into a game and you know what you can actually get away with. That's why we practice fast – so we can keep it as close to a game as we can."
And that's only part of the puzzle. It takes more than practice to build a team – something the solitude of camp helps to provide.
"We're housed here, we live here, we eat here and we practice here," Reid said. "You get to know your teammates and you build something other than just going out on the football field and banging around with each other. Build something there - a personality that you can present as a football team."
2. Several of the players attending camp this year are doing so for the very first time as professionals. Reid's message to them was clear.
"[We have] great competition, but don't count the numbers in the line. That's the trick. You can psych yourself out, you come in and you go, 'Doggone, I have four veteran players ahead of me,' and then you beat yourself down and don't get your best performance," Reid said. "Come in and relax, play, know your stuff, study. There's not a lot of time to do a lot of things other than study and practice and go to your meetings and take notes and get better and give yourself an opportunity to make the team. As opposed to thinking 'Why did I do this?' - you don't want that. Stay away from the 'why shouldn't I haves.'"
The Chiefs will feature 25 rookies in camp this season, providing these young players – from the highly-drafted to the tryout signees - with the opportunity of a lifetime. This is the time to seize it.
3. Mahomes, meanwhile, is heading into his third camp with the Chiefs after setting the league ablaze during 2018.
Though while no stranger to the way things operate up at camp, this does mark Mahomes' first trip to St. Joseph following a full season of game-action.
"Obviously, I feel different having a season under my belt where I got to play all 16 games in the season and then playoff games," Mahomes said on Tuesday. "Just knowing what to do, knowing how camp goes with another year under my belt and knowing what I need to do each and every day in order to have success on the field."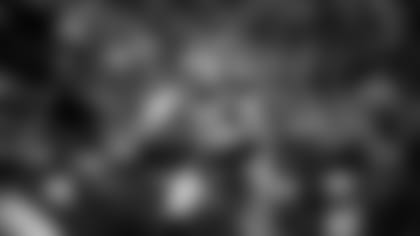 The top storyline surrounding Mahomes this season is undoubtedly how the 23-year-old quarterback can follow up his masterful campaign under center in 2018. Mahomes became just the second player in NFL history to throw for 5,000+ yards and 50+ touchdowns in his initial season as Kansas City's starter, winning league MVP honors.
Mahomes is now tasked with an encore a season later, and camp represents a critical step in that process.
"It's obviously go-time," Mahomes said. "For every team that is reporting to camp, this is when you have to get better. This is when you work on the fundamentals that you will use at the end of the season. I think that's a huge deal - being able to go in and build a foundation that you can utilize the entire season, whenever times are good and when times are bad."
Building that foundation demands a certain mindset throughout the three weeks of camp. It's a grind, plain and simple, but every day represents a chance to improve.
"When you first come to training camp, you expect to win the Super Bowl," Mahomes said. "Coming in with that same mentality of we're going into each and every day getting better because in order to get to that lofty goal of the Super Bowl, you have to make sure that you maximize each and every opportunity that you have."
*4. And as Coach Reid explained earlier, camp offers the perfect environment to make those goals an eventual reality. *
Veterans report to camp this weekend, and from then on out, it really is all football, all the time. It's a chance to take a step back from everything else and just focus on preparing for the 2019 season.
"You enjoy the brotherhood. Just being with the guys for 24 hours and being able to focus on football and nothing else is something that I really do enjoy," Mahomes said. "Just getting up here to St. Joe, and they treat us amazing here, so I'm just excited to be here with all of the guys and all of those young guys and build relationships with them."
5. One of those young players is Hardman, who's looking to make an impression during his first camp with the Chiefs.
The Chiefs added Hardman - who ran a sizzling 4.33-second 40-yard dash at the NFL Scouting Combine in February – to an offense already chock full of playmakers during the second round of the draft. In fact, Kansas City compiled the third-best statistical offense of all-time last season while becoming the first team in NFL history to pile up 26+ points in every single contest.
It remains to be seen how involved Hardman will be offensively during his rookie season, but it appears that he certainly has the right mindset heading into his first NFL training camp.
"I just want everyone to know that I came in to do my job. I came here to work hard. I came here to learn. I came to be a team player. I came here for one goal and to be with the team," Hardman said. "Everybody's goal is to go and win the Super Bowl, so I want to be the best I can to help out with that."