If you're looking for the perfect combination of humility and confidence—the balance between an unrelenting belief in your own abilities and the self-awareness to know there's more to learn and that you don't have all the answers—that's Patrick Mahomes .
The talent—is undeniable.
The work ethic, which isn't widely known because he's a guy who flew a bit under the radar last year as Alex Smith's backup—has been something those close to him have raved about since he first arrived.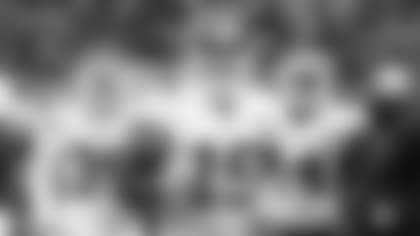 As a matter of fact, Mahomes spent much of his morning doing multiple media requests, and his afternoon will be spent throwing routes to a few of his teammates who are in town.
Moments before one of his interviews, Mahomes was busy texting with a teammate to make sure they'd be there at the work out away from the team facility later Thursday afternoon.
Always working, always trying to get better—something he learned, in part, by watching one of the best to ever do it in Kansas City last year.
"I told [Mahomes] that he could buy [Alex Smith] a castle and it wouldn't pay for the experience that he was able to have working with [Smith]," Chiefs' coach Andy Reid laughed Thursday morning.
"He showed me how to prepare and how to be a professional," Mahomes said of Smith. "He helped me build a foundation of how you need to go in every single day and learn and keep getting better no matter where you're at in your career.
"I got to see how [Smith] interacted with fans, how he interacted with his teammates, and of course, I have to add my own personality to that, but I feel like I've built a great relationship with these guys already and I look forward to keep building with them and having great friendships with them."
Reid reiterated the fact that Smith went out of his way to help Mahomes, who became the first Chiefs' quarterback selected in the first round since 1983 last year, learn this system and be ready for his moment, whenever it was to come.
"That can be really sticky," Reid said of that dynamic between the two quarterbacks and the situation they were in. "But their relationship, [Mahomes'] respect for Alex and how he handled it—this wasn't Alex's job to teach him, but that's just how that room was, phenomenal room. I saw that part. I saw the way [Mahomes] went about working every day at practice."
One key reason there's a level of comfortability with moving forward with Mahomes was his performance in Week 17 of last year against the Denver Broncos.
In that game, Mahomes not only completed 63 percent of his passes for 284 yards and led the team on a game-winning two-minute drive on the road in a tough environment, but he handled the moment and showed a presence and demeanor that showed that it wasn't too big for him.
That—perhaps, was as telling as the handful of jaw-dropping throws he made in the game.
"I had that opportunity to work with him in a game situation," Reid, who called the plays in that game, explained. "You can't predict that by any means but we were lucky enough to be able to do that."
"For that game, we molded that game plan around him," Reid added. "(New quarterbacks coach) Mike Kafka spent a lot of time with [Mahomes] (that week) when everybody else was kind of working on the playoff game. We didn't put a lot of new in because we had a lot of young guys playing around him. He didn't have the whole cast there."
Moving forward, Reid admitted that the Chiefs' offense might change a bit with Mahomes under center, compared to what we've seen over the past five years with Smith.
"We'll try to utilize his strengths," Reid said. "One of the things as a coach, that's what you do. You exploit their strengths and you work on things they need to get better at. Will the offense change a little bit? Yeah, it will.
"It will change a little bit, but that's fitting around his talents."
The offense could additionally change a bit with the addition of free agent receiver Sammy Watkins, who has averaged an astounding 15.9 yards per reception in his career, which is sixth-best in the league since he first entered as a first-round pick (No. 4 overall) by the Buffalo Bills in 2014.
"We're excited to give [Mahomes] some tools to work with, and it is going to be a lot of fun next year," Chiefs' general manager Brett Veach explained. "You have an innovative head coach and an innovative staff. You have a bunch of weapons and we are looking to have fun. And this is something for the fans, too.
"We have the best fans in the NFL and we want to go out there and put on a show. We want them to be excited and watch the scoreboard light up."
"Super excited," Mahomes said of the addition of Watkins. "Just from watching his film this last year and seeing him when I was in college, he's a guy that's super talented, a great player. He's had a lot of success in the NFL. Just to add him to an offense that already has weapons everywhere, it makes life for me a little easier.
"I just need to put the ball in their hands and they'll all make the plays."
"We have guys that can go," Reid added of Watkins, Tyreek Hill, Chris Conley, Demarcus Robinson and company. "But it's not always about how fast you can run—quickness can be a strength, too, for a receiver. Route-running, knowing the defensive coverage and how you read those. But yeah, we have guys that can go down the field."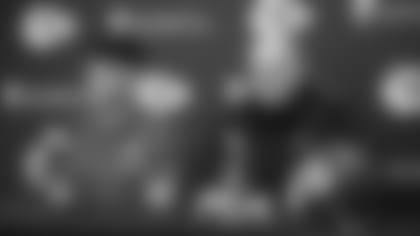 On paper, the optimism is there for everyone. There's a considerable buzz around the building of what could be possible for this team even in the near future looking at 2018, but that doesn't mean there won't be growing pains with a young team and a young signal caller.
"The comfort level is extremely high," Reid explained of how he feels about moving forward with Mahomes right now. "Does that mean I'm not going to grind on him? It's all roses right now. Does it mean he isn't going to hit a rough spot here or there during the season? Well, it happens.
"It happens to every quarterback in the National Football League, but he's wired the right way, I know that. Now he just has to go do it. Everything else is speculation to this point. It's just a matter of us doing a good job coaching and him doing a good job playing, and the guys around him doing their thing and we roll."
All that said, Mahomes remains confident in what this team could accomplish sooner rather than later, but as we've seen from him all along, that's going to take work—something he's ready for.
"I feel like as a team, we have won a lot of games in the last few years and we are bringing a lot of those guys back, and with the additions that we've added, I feel like we can have a very, very good offense," Mahomes explained. "It's all going to start with how we prepare, especially at my position, and how I can make myself ready every single week. That starts in OTAs and when I get to minicamp."
Based on what he said earlier on Thursday and the fact that he'll spend his afternoon throwing with some of the guys, it seems that work has already started. A great sign of things to come.