Myka Eilers took a seat in front of the television, clad in a custom red sweatshirt and with a football in her lap. She watched the screen intently, fixated on a segment of coach's film as the individual to her left walked through the final 13 seconds of last year's postseason victory over Buffalo.
This was the defining element of perhaps the greatest game in league history. Millions have watched it over and over, but few have viewed that night's epic series of events alongside the man who orchestrated it. Myka hung on every word of this private commentary, occasionally nodding while processing the reality of what was turning out to be an unfathomably special day. In a world where "once in a lifetime" is probably overused, this particular afternoon embodied the phrase.
Myka is 14 years old. She loves cake pops, pasta and LEGOs, but most of all, Myka loves the game of football. In fact, the California native is the quarterback of her flag football team and aspires to be the first female player in the NFL one day.
It's a dream rooted in her family's collective passion for the Kansas City Chiefs, something that originated with Myka's dad – a Kansas City native – before permeating throughout this household of five. It's their family's thing, and it's why the decision for Myka – who survived multiple heart surgeries as an infant – was an easy one when afforded an opportunity by the "Make-A-Wish" Foundation earlier this year.
Myka wanted to meet Patrick Mahomes.
"She was granted a wish a few years ago, but everything got put on hold when the pandemic hit," said Myka's mom, Angela Eilers. "She ended up outgrowing her original wish, so we went back-and-forth on what to do. That's when the idea of meeting Patrick Mahomes came up, and I was like, 'Well, we can ask, but that's a big ask.' The next thing we knew, they told us it was going to happen."
Myka learned the news on a Sunday. Three days later, she was in Kansas City spending the afternoon with the Chiefs' starting quarterback. She watched practice, helped break down the huddle and got fitted for equipment before sitting down for her film session with Mahomes, marking the continuation of a day full of surprises. She even signed a contract alongside General Manager Brett Veach, who suggested that Myka could be Mahomes' replacement one day.
"Today has been amazing," Angela said. "It's made her feel so special. Our family just feels welcome and seen. We couldn't have envisioned this in our wildest dreams."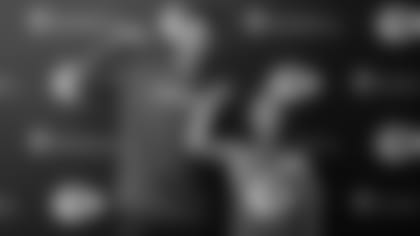 The highlight of that day, of course, took place within the confines of the Chiefs' indoor practice facility. It was there that Myka lined up just inside the hashmark, sprinted ahead and put a double-move on tight end Travis Kelce, breaking free upfield. Mahomes reared back and fired a pass in her direction, slinging the ball perfectly into Myka's outstretched hands. She ran forward for the would-be touchdown, cracking a smile along the way as her family watched from the sideline.
The two quarterbacks switched roles, too, providing Myka with an opportunity to throw some passes of her own. Mahomes drew up a quick slant that Myka executed to perfection, mimicking Mahomes' cadence before firing a dart to Kelce over the middle. She then followed that up by heaving a deep ball into Kelce's grasp, prompting Mahomes to let out a yell that echoed throughout the building. It wasn't until after Mahomes departed, however, that tears of joy streamed down Myka's face.
Here was a teenager – and a family – who persevered through the unthinkable, battling through the worst of circumstances in order to achieve the simplicity of a normal life. Myka's strength was rewarded with an opportunity to meet her hero, but as it turned out, Mahomes was just as eager to meet her.
"He's a genuine human being," Angela said. "He's a good person who just happens to be a stellar athlete. At the end of the day, he cares."