Defensive Coordinator Bob Sutton
Q: What have you seen from Husain Abdullah so far?
SUTTON: "Well, he's done a good job. He did a really good job for us last year, played a lot of different roles for us. He's a guy that has very good instincts, has really good knowledge of the whole defense so he gives us some great flexibility. He can play back, he can play up and I just think he's going to get better and better. We've got several guys that are working in there, Sanders Commings is working in there as well. Right now a lot of it is about competition. We're trying to develop competition. Compete against yourself, compete against the other guys and nobody should be satisfied with whatever level of position you're perceived to be at right now."
Q: What do you look for out of the free safety spot and what does that guy have to be able to do for you?
SUTTON: "Well I think we have a couple things, one, we try to play both safeties equally – we don't really have a strong and a free, so both guys have to know both jobs. But you're really looking for guys that have a lot of range. Free safeties can do a lot of things, a lot of it goes unnoticed but you can cap off a play. A play that maybe was run or caught for 20 yards but that guy is there to stop it at 20 yards. That's a big part of being successful, anytime you can limit the explosive players and keep them down the better off you are. You're asking a lot, you've got to be a centerfielder, you've got to have good knowledge of the defense, like every team is asking out of their safeties. Those would be the main things that we'd be looking for."
Q: Kendrick Lewis was a guy that talked a lot and was kind of the quarterback of the secondary. How do you go about replacing that, is that something that Eric Berry has taken more of a role in?
SUTTON: "Well I think everybody does. Kendrick was a real sharp guy back there, very verbal guy. He's obviously not here and someone else has to step up and we're really encouraging everybody out there to step up and instead of putting it on one person's plate, hey let's get into this thing and go and understand what we're looking for. But I think all the guys are starting to do a good job."
Q: We haven't seen a ton of Vance Walker working in with the first team. Where is he at right now with you guys?
SUTTON: "He's done a good job. He's been working in there. We've got him playing a couple different positions in there, he's learning our techniques. I think Vance is going to be fine."
Offensive Coordinator Doug Pederson
Q: How do you make the adjustments in the offseason after losing so many guys on the offensive line?
PEDERSON: "You do lose guys, but we also played a lot of guys on the offensive line last year due to injury. You hate to see guys go in free agency, but we just know it's the nature of the business we're in. But the next guy steps up. That's always been the M.O. The guys work extremely hard. We're rolling people in there right now. This is a time to experiment with different combinations at all positions. As we get closer to camp, things get ironed out a little bit more, and we'll go into the season that way."
Q: How do you feel about the tight end position?
PEDERSON: "They've had a great offseason. We're excited as a staff and as a coordinator to really see (Travis) Kelce really getting back out there at some point. They've worked extremely hard. They're doing a great job. The emergence of Demetrius Harris, he's a tremendous talent. He mixes in there with those guys. They're having a good offseason."
Q: He looks like almost a completely different player than last season.
PEDERSON: "He does. It was a valuable experience and a valuable lesson for him to practice as a tight end. He got a lot of reps as a practice squad tight end and as a show team tight end. Now, coming in and the amount of reps he's getting, it's just making him better. He really is a smart guy. He's picking up the system, and he's doing things right. We're really excited to see his progress."
Q: Will there be tough decisions coming up at certain positions?
PEDERSON: "At every position. Again, that is the downside of this business. You have to trim the roster. It makes for great competition and obviously improves your roster when you get a lot of talent out there. It will be a tough one."
Special Teams Coordinator Dave Toub
Q: How is Knile Davis doing and what do you see from him this season?
TOUB: "The sky's the limit for him. He's way ahead as a catcher goes. Last year he had to take it from ground zero to learn how to catch a kickoff and punt. He's got a lot more confidence. He's excited about the idea of being the guy."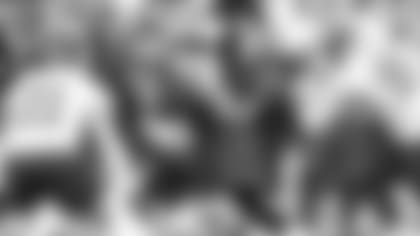 Q: Who has stood out at catching punts and kickoffs so far?
TOUB: "They're all working hard. They're all really good catchers, which is the most important thing, catching the ball. (Albert) Wilson, as a rookie, he's really opened some eyes because he's not only a good punt returner, he can be a kick returner too. He's done a lot of good things on offense too, so he's a guy that I really have my eye on and excited about."
Q: What about Weston Dressler?
TOUB: "Dressler is in the mix. I feel good about him. He catches the ball well. He probably is our best catcher. That's good for him."
Q: Tell me a little about Brock Olivo.
TOUB: "Brock Olivo, when I was a strength coach at Missouri, I coached him. He was the hardest working player I ever had. He went to the Detroit Lions. He was a star special teams player for four years before he decided just to hang it up. Then he got into coaching and went to Italy and was a player, coach. Then he went and coached most recently at Coastal Carolina for three years. I had a chance to hire him, and we're fortunate to have Brock here."
Assistant Head Coach/WRs Coach David Culley
Q: Albert Wilson looks pretty good early on in the slot. What have you seen from him so far?
CULLEY: "The thing that's intriguing about Albert is when we got Albert as a free agent, we were surprised that he wasn't drafted because the kid can run, he did very well at the combine, I remember him specifically at the combine – him running well. I know when he came from Georgia State it was a new program there and he did a great job down there against the competition that he had and had a bunch of big plays. And he's come in here and he's kind of caught our eye."
Q: How is Dwayne Bowe doing physically?
CULLEY: "He's very good. He's better at this point this year than he was last year. Basically he changed his routine. At this point in his career he decided that 'Hey, I want to play a long time.' In order to play a long time in this league you've got to have yourself right physically. And he's done that."
Q: Does he seem a little lighter to you?
CULLEY: "He is, he is a little bit lighter. He's gotten back up a little bit now. But he came in, he was down. And that weight is going to fluctuate a little bit, but if we can keep him down to that, and he can stay down to that weight, I think he's going to be very, very productive for us."
Q: Does Junior Hemingway deserve the first crack at the slot position or are him and Weston Dressler battling that out right now?
CULLEY: "Well they're all battling right now, they're all battling right now. Obviously what Junior did for us last year in the limited role that he had, obviously we know he can get the job done. So we'll just have to see what happens. There's good competition right there and competition makes you better."
Q: Jamaal Charles had a fantastic year last year, but a lot of fans were encouraged by the emergence of Knile Davis late in the season and in the postseason filling in for Jamaal when he went down. What have you seen from him so far in the offseason?
BIENIEMY: "First and foremost, Knile has taken a tremendous jump mentally. The beauty of it is last year was his first time going through it. Now he's been through it. Now we're just rehearsing everything and we're going over the things we made mistakes on. He has a better awareness of what's going on with the game. Obviously he comes out here every day and he works his tail off. The beauty of it is he's learning how to become a professional. He's gaining a better understanding of awareness, of what it takes to be a professional, what it takes to see a blitz coming, how to apply the proper technique when pressure is coming. So he's doing a great job so far."
Q: De'Anthony Thomas is a very interesting player, can be used not only in special teams and as a running back, but can also be split out wide as a receiver. When you see him come in here, you see his talent and speed, what have you seen from him so far in rookie camp when he was able to be here?
BIENIEMY: "You know what, in rookie minicamp I thought he did a great job. Obviously when those kids come to camp, you never know what to expect. I'll tell you one thing, he blew our socks off. He was in great shape, he did an outstanding job of catching the ball, he did an outstanding job of running the ball. It was fun watching him work. I've seen him since high school, I know what he can do. It was just exciting having the opportunity to see him do it live and up close in person."
Q: How much does it mean that he has Jamaal Charles as a guy to look up to and learn from as he starts his journey in the NFL?
BIENIEMY: "You know what, I speak to Jamaal about that each and every day. You are the lead dog in this group. Your job is to be a professional and show these younger players what it takes to get to your status. First of all, Jamaal takes a tremendous amount of pride coming out here and working his tail off. Second of all, he takes a tremendous amount of pride of what he does in that weight room. More importantly, he takes a tremendous amount of pride in that classroom. All those things, combining the type of citizen he is, are going to show not just De'Anthony, but is still teaching Knile and Cyrus and all the other young players how to become a true professional in this industry."
Q: Luther Broughton recently told me that when he was playing with you in Philadelphia that the playbook was really big and it was a lot to grasp. Almost 10 or 15 years later, how much scaled down is that now?
MELVIN: "It's never that. What you talk about is the fundamentals. Really what you'll see in training camp is the foundation of the offense. We'll do things in training camp that you may not see until Week 15 of the season. But the fundamental plays learned from that, then when you get into the season, you start to do your personnel groups, your formations, your motions. Now you toy with it, but it's the same route. You build off 'I know what the route concept is, now where do I fit into it?'"
Q: What is different now that you've had a year in this offense?
NAGY: "Last year, it was focused on the details, this year it's more on detailing the details. We're really honing in on the details of the game. For instance in a specific play, Alex (Smith) last year might be trying to learn the concept of the play, whereas now this year he's really focusing in on not the concept of the play so much as maybe his footwork or whether he's going to take a single hitch versus a double hitch on a five-step play versus a seven-step play. It's really detailing the details more than it is just learning the concept of the play."
Q: Does Alex Smith run and use his feet?
NAGY: "He actually does, he does. We went back and looked at numbers last year and one of the offseason projects I had is scrambles. We were, I think, first or second in the league in quarterback scrambles with 53 for the year and of those 53, what I was trying to find out was how many was he taking extra hits. Not so much a hit, because he's going to get hit a lot, but the extra hit that he doesn't need and he only took one out of 53 times, so he protects himself."
Q: How many of those are designed or how many come from what was given to him by the defense?
NAGY: "If it was up to Alex (Smith), we might design a few more, but Coach (Reid) keeps that limited. We try to protect him as much as we can. You'll see some where it's designed and we call it for him, but a lot of the times, he's an athlete, and he'll make plays with his feet. He's faster than people think and he has that sixth sense of awareness. He has a really good awareness understanding the pocket, where guys are collapsing the pocket and he escapes and then he can outrun some linebackers."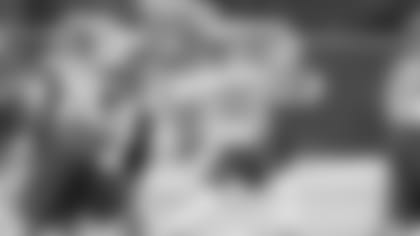 Q: What about the progress of Eric Fisher?
HECK: "I think that's a natural progression for an o-lineman, especially a young, lean guy like him coming into this thing to just put on a few extra pounds. I think he feels good at his weight and he's been working hard in that weight room, so I think it's going to be a positive for him."
Q: Are you trying to improve technique or physicality for the offensive line?
HECK: "Well, as a young offensive line, when you talk about everybody across the board, we're going to see improvement in every single one of these guys. In the weight room, in their strength and development, in the classroom, as professionals, how they work the playbook and fundamentals. That goes for everybody."
Q: What did Rishaw Johnson show you in the game against San Diego last year?
HECK: "Rishaw (Johnson) along with a bunch of other guys, are competing to show us what they can do. We've got a great group of guys here working their tails off this spring to begin this competition. Rishaw was here last year and we saw him grow, just like everybody else did.
Q: What are you trying to teach Philip Gaines?
THOMAS: "We're trying to give him a foundation to build on and put some confidence in him. He's a good athlete, we drafted him in the third round, we've watched a lot of tape on him and we think he should come in here and help us this year."
Q: What is happening with the communication with the defensive backs now that Kendrick Lewis is no longer part of the team?
THOMAS: "I think we're fortunate enough to have two veterans who are probably going to take that position to try to (communicate) in Husain (Abdullah) and Eric Berry. I think it's in capable hands and they've prepared very well. I'm looking forward to the season and training camp and I think we'll get the job done."
Q: How much growth should we expect to see out of the defensive backs this year as opposed to last year?
THOMAS: "Tremendous. We broke ourselves down and the things that we really suffered on. We were good on third downs, but we gave away too many big plays, explosive plays when you think about it. With what we're doing now, we can stop some of that."
Players continue to practice during day 5 of OTA's.