*This is another in a season-long series on the Kansas City Chiefs search for a franchise quarterback. It appears weekly on Thursdays throughout the 2015 season.
*
---
Elvis Grbac was a player who never commanded the affection of the fans, but after years of disappointment where many of the team's quarterbacks never enhanced their reputation, he was initially supported by everybody associated with the Chiefs to include teammates, media and some fans, too, and from some quarters went well into his final season in Kansas City.
Grbac's teammates showed immediate confidence in him. Someone as well respected around the locker room as Marcus Allen commented early on in Grbac's first year that he was impressed with the way the new quarterback handled adversity.
No better example of that came in the second game of the 1997 season in Oakland when he was faced with 58 seconds left in the game, no timeouts, his team trailing by five points and 80 yards to go for a touchdown.  He completed four of six passes, moved the ball for a 33-yard TD pass with three seconds to spare to win the game before a nationally televised audience on Monday night.
This set the tone for much of his season.  "He was cool, he was calm," recalled Andre Rison, with whom he immediately developed a rapport.  "He had poise," noted guard Dave Szott.  "The guy is a competitor," observed Tim Grunhard.
Newsmen were just as impressed. "Grbac imitated the master," wrote one, following the comeback against the Raiders, referencing one can assume Montana or maybe Elway.  "And a darn good imitation it was."  His jerseys were selling quickly in the Kansas City marketplace.  The affection for him, wrote a local columnist, ranks "somewhere between Len Dawson and Joe Montana."
Perhaps the most important praise for Grbac came from his coach. "He has a tremendous presence about him," Marty Schottenheimer recognized. "I've never seen any sense that his demeanor ever changes.  He's very businesslike."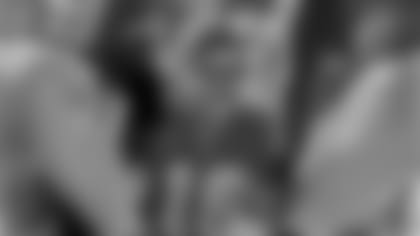 Grbac was "very businesslike"
Finally, in what the team needed most, Grbac had. "I arrived at the conclusion that the one thing that a quarterback gives you is hope," Schottenheimer cooed. "Elvis Grbac gives us hope." 
By mid-season of 1997, however, the Chiefs were still not generating enough of Schottenheimer's demand for more "chunks" in yardage.  They were throwing fewer passes than the previous year and the run-pass ratio was still tilted more to the run. 
Grbac was playing better than Bono and he had more weapons he was using, too.  With Rison, Ted Popson, Kimble Anders, Tony Gonzalez and Lake Dawson he did well distributing the football.  The team's third down conversion percentage, however, ranked only 13th in the league.
Grbac had more weapons at his disposal
Grabc started the first nine games but then broke his collarbone, replaced by Rich Gannon who went 5-1 during his absence.  Grbac returned for the season-finale in which he played a bit role just to kick off the dust. 
With a bye in the playoffs and a divisional face-off at Arrowhead against AFC West foe Denver, he returned full time completing 24 of 37 passes for 260 yards and a touchdown - even being effective as a runner.  The team's running game, however, was missing and its running backs gained only 52 yards.
On the last drive, Grbac generated some more comeback magic, moving the team from the 17 to the Broncos 28. Then his headset went dead and he was forced to go it alone on fourth-and-two opting to go to the end zone with little time left on the clock. The Chiefs lost to the Broncos and found themselves out of the playoffs once again.  They had scored only three more points than the game they had lost to the Colts in the 1995 playoffs.
As for Grbac, he was no Bono, everyone said it.  "We're stuck without a villain, a rogue, someone to dump all the agony that sweeps over KC now that is here," wrote a columnist. 
"He played very well," said Schottenheimer.
---
Next time: The comings and goings of Elvis Grbac