Arrowhead Stadium was the loudest it has ever been reaching 137.5 decibels today. The Chiefs performed in front of an energetic and enthusiastic sold-out crowd, shattering its previous long-standing noise level record of 116 decibels.
The peak noise level today reached 137.5 decibels, which broke the previous world record of 136.6 decibels. Arrowhead is back!
"In the fourth quarter, as the Chiefs fans were celebrating their victory, all of the sudden it peaked at 137.5 decibels," Philip Robertson, the Guinness World Record adjudicator noted. "They screamed for an incredibly long time, probably longer than what I heard in Seattle."
Kansas City Chiefs Chairman and CEO Clark Hunt was with fans pregame as they prepared for what is now a record-breaking game day.
"Congratulations to our incredible fans at Arrowhead today, who set a new Guinness World Record," Hunt said. "Not only were they loud, but they knew when to be loud and helped propel their Chiefs to victory. They proved what we've known for a long time - Chiefs fans are the best and loudest in the NFL."
When I originally became a member of the Chiefs Kingdom last year, I heard all about, "Arrowhead in the 90's." Fans and Chiefs staff members have told me all sorts of stories about how loud the stadium was, how it was the toughest stadium in the NFL and how teams would fear visiting this deafening stadium.
Now, I know exactly what long time Chiefs fans have been talking about. Today, Arrowhead Stadium was electrifying, ear ringing, deafening and intense.
"It was out of control today," Zach Aaron, game day engineer said. "It was the loudest thing I have ever heard for the longest time I have ever heard and that was also a concurrence from our Guinness World Records adjudicator. This stadium was constantly at 130 to 136 decibels. We had constant obliterating loudness."
I have never experienced Arrowhead Stadium like I did today. I am extremely proud of Chiefs fans and their passionate, diehard love for this team.
"The entire time, fans were really excited, really upbeat, really behind their team," Robertson commented. "It was just incredible to watch. They were supporting their team the entire time."
The group of Chiefs fans advocating for the record is ecstatic and extremely grateful that Arrowhead and the Chiefs are back.
"The pride in this town is back," Ty Rowton, a group member noted. "It's incredible to see all the fans excited about the Chiefs and to see this stadium rocking just like it used to be. The Chiefs Kingdom is stronger than ever and the pride in this city is as evident as ever."
Chiefs fans are coming out in droves to support their team and cheer them on. The sea of red filled Arrowhead Stadium today. Fans were out in full force.
"We gave our best today and we have brought Arrowhead back," Connie Jo Gillespie, group member commented. "It's incredible and so great to see Arrowhead packed."
Not only was the Guinness World Record achieved for loudest crowd roar, but before the game, following the National Anthem, another record was broken. 49 planes from KC Flight flew over Arrowhead Stadium with pink smoke trailing behind in honor of Breast Cancer Awareness Month. This flyover is in the process of being certified as a Guinness World Record for the largest flyover formation.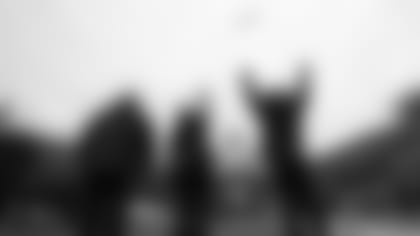 So Chiefs fans, you did it. Arrowhead Stadium now holds the record for the Loudest Crowd Roar at a Sports Stadium (Outdoors) at 137.5 decibels.