As is the case with anyone you meet in life, there's always more to the story than what's displayed on the surface.
There's always a trail of experiences and memories that shape who that person has become, and how they got to that point.
In the case of Kansas City Chiefs' linebacker Reggie Ragland, who came over in a trade with the Buffalo Bills before the season began, the story is much deeper than what many know for a guy whose life—as is the case with all professional athletes—is very public.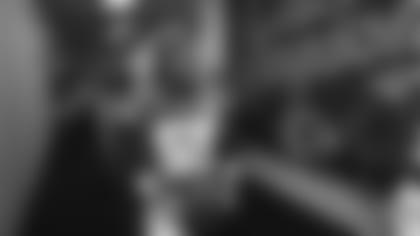 Most people are aware of Ragland's athletic accomplishments. He was named the SEC Defensive Player of the Year at Alabama in 2015—the same year they won a national championship, and he was named a unanimous first-team All-American.
The guy can play football. He's well known. He's good.
But some might not know that he returned to Alabama for his senior year because he promised his mother he'd get a degree, which Ragland accomplished as he graduated with a degree in Consumer Affairs. He was also a finalist for the Senior CLASS Award, which honors student-athletes who make a difference on and off the field.
Furthermore, Ragland was a part of Alabama's leadership council and dedicated more than 50 hours of his time to community service—visiting hospitals, churches, and schools.
And he also returned that year because he had to leave the last game of his junior season with a concussion, and he didn't want that to be the last memory he had of playing in college.
But even before all of that, the experiences he went through shaped and developed him into the person who would pour everything into accomplishing those things.
"The year before my dad suffered a stroke, I found out my mom was diabetic," Ragland explained of his sophomore year at Alabama. "So, that was a tough year for me."
Within almost a calendar year, the two most influential people in his life were going through some serious medical issues.
Ragland celebrates national championship with Alabama fans (January, 2016)
But that wasn't all that happened. In fact, it was from it.
"My first couple years were pretty tough at Alabama," Ragland explained. "My first year a very close friend of mine ended up dying in a car wreck, and that was the day of the LSU game, and then the day before the Tennessee game my sophomore year, my best friend also died in a car accident."
This was all around the same time that both his mom and dad were also having their struggles, and Ragland wasn't a star right away at Alabama. It's not as if he was "the guy" when he was going through all of these things. He was fighting his way for a spot among the most talented defensive players in the country.
"I had a lot of motivation because those two guys I grew up with, they always motivated me and pushed me, especially my best friend Dez, my best friend who I played with at Bob Jones (High School)," Ragland explained. "He always made sure I was good. That's why I changed my number from 18 to 19 because he wore number 9 in high school, and my thinking is if I get a "9" in my number—he's always going to be there with me. That's why I wear No. 59 with the Chiefs.
"I've got a lot reasons for why I do what I do."
Again, there's more than what's on the surface.
Away from the football field, the Kansas City community has also benefitted from Ragland joining the organization. He's attended multiple community events, which are important to him and something he seeks out and wants to do, just as was the case for him in college.
"Being in the position I'm in if I can go out there and give people hope and just give them a smile for 10-15 minutes that day and let them forget their troubles, it makes it all worth it for me because growing up I didn't have it all," Ragland explained. "My parents did what they could. Growing up as a kid, my dad would go out and paint all day, cut grass all day, just do a lot of house stuff. He used to take me out there with him, and he was like, 'Man, do you want to do this type of work or do you want to be able to do what you want to do?"
Ragland, who credits his mother for his work ethic in school and everyday values, eventually found what he wanted to do. He found football—becoming a standout at Bob Jones High School in Madison, Alabama.
That's where his football journey began.
And after suffering a knee injury before last season, which cost him his entire rookie year—the Bills, who had selected him with a second-round pick two years ago, traded him to the Chiefs, where his journey now continues.
"He came right in the midst of the whole thing, so you have no real foundation, no background in the system," Chiefs' defensive coordinator Bob Sutton explained of Ragland joining the team at the end of the preseason. "He was also coming off the injury, so there was a lot going on when he got here, and I think credit goes to him and (linebackers coach) Gary Gibbs and (assistant linebackers coach) Mark DeLeone, who worked with him on the side outside of practice time, to bring him along.
"And [Ragland] did a great job investing in that," Sutton added. "When it started, we had no idea when he'd be ready."
Ragland didn't see any action for the Chiefs' defense for the first three games but has steadily seen an increase in playing time over the past few weeks—leading to a career-high of 47 snaps played last week against the Giants.
"They welcomed me with open arms," Ragland explained of his teammates. "My thing is I just have to go out there and produce and make sure those guys trust me enough to be there on that field. And right now, they are demanding me to do more, especially Justin Houston, who is being very vocal, so I've got no choice but to get it done."
"Reggie talks a lot," veteran Derrick Johnson laughed. "He does ask a lot of questions, which is great. He wants to know where to be and he wants to move fast on the field. He's getting it down. He's really getting it down."
"If I'm not doing my job, I want someone to tell me," Ragland said of his propensity to talk and ask questions. "It's all about the team because we're 11 guys. We've got to be together like a fist. I want to understand what's going on because uncertainty can kill us all. But when we all know what's going on as a group and we're certain about everything, we're set up to eat, especially defense-wise.
"If we go out there and call out the formation before they do and know it's one of those two plays—we're doing a good job as a defense. They can't win if they don't score."
After putting together his game as a professional last week against the New York Giants—leading the Chiefs with nine tackles and helping hold the Giants' running game to just 3.5 yards per carry, the next challenge for Ragland is to do it on Sunday against his former team—the Bills.
Despite what could be understood as a natural motivation to face the team that traded him away, Ragland isn't holding any grudges.
"Me and (Bills' running back) Mike Tolbert talked last night—that's my guy," Ragland smiled. "We're always talking junk, friendly, but we know how it's going to be this week. For the most part man, all those guys, I got nothing but love for those guys over there. Preston [Brown], Ryan Davis, Shaq Lawson, everybody. I've got no blood for those guys. It's business."
With everything he's already been through up to this point in his life, the joining of a new organization to continue living out his dream of playing professional football wasn't that difficult.
After all, it's what's below the surface that really matters.