It's not the first time Kansas City Chiefs head coach Andy Reid will face his former team—the Philadelphia Eagles, with whom he spent the first 14 years of his head-coaching career (1999-2012), but Sunday's game will still mean something to him.
"No, you don't forget it. It's part of your history—part of your life," Reid, who won 234 games as head coach of the Eagles between 1999-2012, said of his time there. "I don't want to forget Philadelphia. The people there were great to me. The organization was great to me.
"But again, I'm all red now. I'm all in with the Chiefs and I'm loving it here. There's nothing like Arrowhead, and I welcome them to Arrowhead. I know our fans will be ready to welcome them in, too."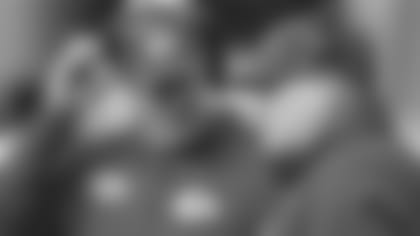 In his first season in Kansas City in 2013, Reid and the Chiefs went on the road to beat the Eagles, 26-16, on their way to an 11-5 season and the greatest single-season turnaround in Chiefs' franchise history—from two wins in 2012, to 11 in 2013—a nine-win improvement.
Although it'll be a little different against the Eagles this time around because a handful of faces on the opposite sideline will be familiar ones.
Doug Pederson, who spent three years as the Chiefs' offensive coordinator (2013-15) and five years before that with Reid in Philadelphia as quarterbacks' coach (2011-12) and offensive quality control assistant (2009-11), is now the head coach of the Eagles.
Pederson was also Reid's first starting quarterback with the Eagles in 1999, which was the first season for Reid as a head coach at any level.
In addition to Pederson, the Chiefs will also see Eugene Chung, who worked with the Chiefs as an assistant offensive line coach (2013-15), and Dino Vasso (2013-15), who worked with the defensive backs, on Sunday. Both are on the Eagles' staff right now.
Reid currently has five former assistants who are head coaches around the league, and he spoke on Monday about what he first saw in Pederson when he gave him his first opportunity in the NFL in 1999.
"He got in and loved every minute of it," Reid said of Pederson, who was coaching high school football in Louisiana when Reid called him with an opportunity. "He gobbled it up, and he earned every position that he got. I don't think people who had worked with him were surprised he had the opportunity to be a coordinator, and then I don't think they were surprised when he had the opportunity to be a head coach.
"The guys who worked with him knew what he was capable of doing, and so what seemed like a fast-paced progression for people outside of here, seemed kind of natural for the people who were here. I have a lot of respect for him and I think he's doing a nice job there."
With the Chiefs having Sunday off because of their game Thursday night against the Patriots, Reid had a chance to watch Pederson and the Eagles' 30-17 win over Washington.
"Very aggressive on both sides of the ball," Reid said of what he saw from the Eagles. "They have a really good special teams group. Good coaches, good players, and so, we'll get back to the drawing board here tomorrow."
Obviously, when facing a former coach who knows your offense and signals, there's the chance of things being telegraphed to the other side. Reid spoke about that Monday as well.
"Well, if you get in a checking game, they kind of know you're checks and signals," Reid said. "So, that's one thing. They know formations, but normally it goes both ways."