It's one thing for fans of the Kansas City Chiefs to feel good about what's possible for this team in 2017. After all, this is the time of the year when fans of every NFL team are feeling pretty optimistic.
But when the NFL schedule came out in April and featured the Chiefs in a league-high six primetime games, including three at Arrowhead Stadium, there was an added sense of validation for Chiefs fans who felt this team had a shot to achieve even more than we've seen from them over the past few years.
The Chiefs' season has ended in the divisional round of the AFC playoffs in each of the last two seasons.
On Friday, NFL Commissioner Roger Goodell was at Arrowhead Stadium, taking part in this year's "Fantasy Camp," which is a unique and special event fans can attend. (For more on that, click here.)
In taking a break from his duties there, Goodell, who after noting there are a handful of people tasked year-round with the development of the NFL schedule, spoke about the Chiefs being featured so often nationally this season.
"I personally think it's a great tribute to the national attractiveness of the Kansas City Chiefs," Goodell explained. "I'll tell you, every network talks about broadcasting a game from [Arrowhead Stadium] because it's such a great atmosphere. I can't emphasize to you enough the importance of how that passion of the fans comes through the television screen.
"We're a game where that passion is felt through the broadcast and people are like, "Wow, that sea of red…it's just a great setting."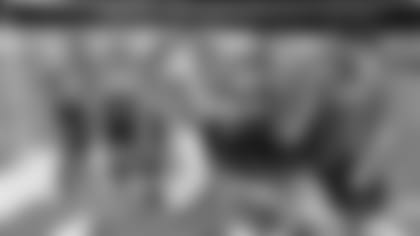 The Chiefs will be tested and featured early in 2017, as they play in the NFL's opening-night matchup on the road against the defending Super Bowl champion New England Patriots on Thursday Night Football.
"We think it's going to be a great matchup," Goodell noted. "It's two great football teams, and we think there will be a lot of anticipation for it."
Earlier this week, Chiefs coach Andy Reid, who has never played an opening game of the NFL season throughout his 18 years as an NFL head coach, spoke about the opportunity to open up against the Patriots.
"Well, first of all it gets everybody's attention," Reid explained. "It's on a Thursday, so when you finish training camp, it's not like you get a couple days off, you're right there. You have to prepare yourself and you've got to come out and be ready to go.
"It's against good competition, national TV, all of that."
The Chiefs finished up their mandatory minicamp Thursday afternoon and are now off until they report to camp in late July.
*Here's a look at the Chiefs' full primetime schedule:*
Week 1 | Thursday, September 7 | at New England Patriots | 7:30 p.m. CT | NBCWeek 4 | Monday, October 2 | vs. Washington Redskins | 7:30 p.m. CT | ESPNWeek 5 | Sunday, October 8 | at Houston Texans | 7:30 p.m. CT | NBC*Week 7 | Thursday, October 19 | at Oakland Raiders | 7:25 p.m. CT |CBS/NFLN/Amazon Week 8 | Monday, October 30 | vs. Denver Broncos | 7:30 p.m. CT | ESPN Week 15 | Saturday, December 16 | vs. Los Angeles Chargers | 7:30 p.m. | NFLN**
Home games in bold
*Subject to Flex Scheduling
Overall, the Chiefs' schedule includes five primetime games in the first eight weeks of the season, as well as three primetime division games. Only one game, the Week 5 Sunday Night Football matchup against the Houston Texans, is eligible to be flexed out of the primetime slot.
After not playing on Monday Night Football all of last season, the Chiefs will play in two Monday night games. The Chiefs will also suit up on Saturday for the first time since 2011 when they host the Los Angeles Chargers on December 16.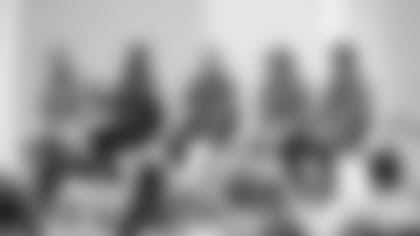 (From left to right - Dustin Colquitt, Chris Conley, Mitch Holthus, Roger Goodell, Mark Donovan - Friday at Fantasy Camp)
Furthermore, the Chiefs are coming off a season in which they went 12-4 and picked up an AFC West title, and the complete turnaround of this franchise over the past four years under the leadership of Reid and general manager John Dorsey isn't lost upon Goodell.
In the four years before Reid and Dorsey arrived, the Chiefs had a record of 23-41, and in the four years they've been in charge, the Chiefs have completely flipped that and gone 43-21, including the franchise's first playoff win in more than two decades in 2015.
"I think all 32 teams understand the kind of system they want in place," Goodell explained. "We're 32 teams who are pretty competitive, and it's a copycat league sometimes because people are looking to see that if that works for (someone else), then I've got to figure it out (for us).
"I think people are doing that with the Chiefs, and that's a tribute to Clark, John and Andy."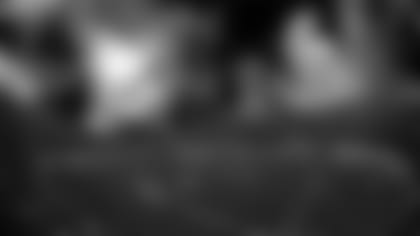 The combination of the Chiefs' recent success on the field, the high expectations for this coming season and the fact that they'll be playing under the lights more than any other team in the league, gives Chiefs Kingdom every reason to be on the edge of their seats for what's awaiting them this fall.
The television networks and their producers, who do have a say in the primetime schedule and are obviously a huge driving force financially behind the league, believe in this Chiefs team.
There's no doubt Chiefs Kingdom does, too. If you want to be a part of it, follow this link.