Back in early September, Kansas City Chiefs head coach Andy Reid, after watching him all training camp and preseason, announced that rookie defensive lineman Chris Jones would be part of the regular rotation with Allen Bailey, Jaye Howard and Dontari Poe.
And through the first two weeks of the NFL season, that has been the case. In fact, he has already seen an increase in snaps from Week 1 to Week 2.
Jones logged 12 defensive snaps in Kansas City's opening game against the San Diego Chargers, and then he was bumped up to 18 against the Houston Texans this past week.
"It's way different from preseason," Jones said about his first experience with regular-season NFL games. "It's all about that continuous grind. The smaller details are what matter. I try to pay attention to the smaller details and correct myself every game."
The smaller details, as outlined by Chiefs defensive coordinator Bob Sutton, are the same for Jones as they are for most young players—specifically, pad level and footwork.
"The basic things that you're looking for to establish some level of consistency of performance," Sutton explained.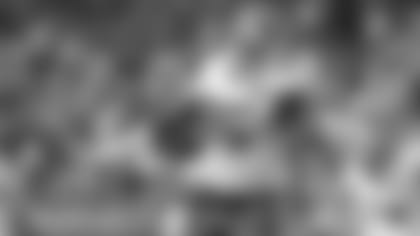 After reviewing his own game tape, Jones said he noticed that he'd like to get lower when rushing, a feat not so easy for a player who is 6 feet 6 inches tall, two inches higher than the next tallest lineman on the team, Nick Williams.
"That's a challenge when you're 6-6," Sutton added. "That's not the easiest thing in the world. We don't want him to play like a 5-11 guy. We want him to play at 6-6, but he's got to understand where your power comes from and pad level and all of that. Chris is such a really good athlete. Sometimes he survives with high pad level, but that comes to an end when you get against a really, really good football player."
Jones will be up against a few good football players in the New York Jets offensive line this week. Led by longtime center Nick Mangold, the Jets have allowed just two sacks in two games.
But during the limited times Jones has entered the game over the past two weeks, he has been noticeable. Besides his towering stature, he has looked strong, explosive and capable. Even as a rookie, he is proving he belongs to the elder statesmen on the team.
"He's a guy that pretty much has it figured out—not a lot of rookies got it figured out, but he has it," Howard, who just entered his fifth year in the league after signing a new contract this offseason, said. "He has good awareness, that's the key of playing D-line. He's able to recognize blocks and understand them quickly."
The evidence is there that Jones is coming along, but it won't be something that all comes together in one week. Sutton, who Jones playfully refers to as "coach Bob," continues to remind him that his goals should be based upon weeks of play rather than self-evaluating game by game.
"This is a whole process," he said. "That's what we keep talking about. This happens over a course of time. There's not these quantum leaps. There are these little leaps like this, and that's what you want to keep stacking up. 'Hey, I'm better today on Thursday than I was on Wednesday. I'm better on Week 3 than I was on Week 1. I'm better on the sixth game than I was on the fourth game.' That's how you get better. That's how you get better as a player, how you get better as a unit.
"And that doesn't mean you don't have set backs individually, collectively, whatever, but you just stay on that course. My experience says that will get you closer to where you want to go." As Jones continues to show improvement, the thought is it will lead to more time in the rotation with the veterans he looks up to, and that, to him, is more important than anything else.
"I'm just trying to work myself to death to get myself included more in the playing time," he said. "That's where practice comes in. I'll try to work myself hard and make sure I get inserted in the defense."