As about 20 local Kansas City media members surrounded rookie cornerback KeiVarae Russell after the second practice of Chiefs training camp Thursday, a PR representative told them to begin with their questioning.
"Hold on! Let me get my hair right!" he said, as he patted his head down with his hand like it was a comb.
The media members collectively laughed, and once Russell was ready, they proceeded to ask about how his first few days of professional training camp were going.
The impression Russell, the sole pick by the Kansas City Chiefs in the third round of this year's NFL Draft, aims to depict to the cameras is just as important to him as the one he is currently building in the eyes of his coaching staff.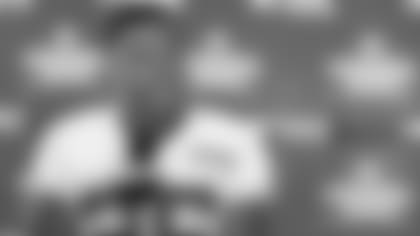 "I think it's just about being a student of the game – being a sponge," he explained, "listening to my coaches, listen to the guys around me who've been here before, [who have] been here 10 years in the league … I've never done this, obviously. I've played football, but I've never been a professional, so I just listen to the guys around me … I think that'll help me, and if it helps me, it's going to help the team."
This week, from Wednesday to Friday, Russell has the advantage of being one of eight defensive backs in camp, as the team hosts practice for rookies and players recovering from injury. He is looking at it as a "head start," an opportunity to refresh on plays and learn some new things before the veterans join practices on Saturday.
Gaines serves Russell as a role model, someone he can trust to answer any questions he may have about a defense he is still absorbing.
"Personally, I look up to him," Russell said of Gaines, now a third-year pro. "I'm always talking to him. In the film room, I'm asking him questions. Out on the field, if I'm not sure of something I either go to a coach or I go to Phillip just because he's been here before, he's learned the defense, he's played at a high level."
While Chiefs head coach Andy Reid has said that as of right now, Gaines is the starting cornerback on the right side opposite of reigning Defensive Rookie of the Year Marcus Peters, there are still other jobs to fill.
Regardless, Russell said he's told the coaching staff he's willing to play anywhere—nickel, corner, even special teams or the safety position, which he says he's learning just in case someone goes down.
"I don't tell [the coaching staff] every day, but I've told them before—I want to play whatever it is," he said. "That's why they have me on special teams or everywhere, whether it's kickoff return, whether it's on the front line of kickoff or anything. I play it all. I want them to know I want to be able to make plays for this team and get on the field."
Getting on the field is so important to Russell primarily because of the background he comes from.
Back in April after he was drafted out of Notre Dame to the Chiefs with the 74th overall pick, he became emotional. Russell was the first person in his family to attend college, and during minicamp in May, he explained the challenges he went through to put himself in such a position.
"There wasn't much around me as far as education I can go to, to look for how to be successful," he explained. "I had the love, I had the support from my mom and my grandfather … for me to accomplish (and make it to) the NFL, that's where that emotion came from."
Because of all that, Russell says he's planning to be careful with everything he earns as a professional, pursuing what he described as "generational wealth."
"We've been smart with my money—my main goal is to get to a second contract," he said. "It's still not enough at this point to where I can take care of my kids and eventually my grandkids."
While the idea of such a prospect is still well away for the rookie, the Chiefs personnel staff has to like his enthusiasm.
They certainly liked his playing résumé, which included starting 11 games for the Fighting Irish in 2015 after missing all of the collegiate 2014 season. Playing the entire season with a stress fracture, Russell had 60 tackles, 3.5 for loss, 2 interceptions and 4 pass breakups.
"He has a lot of attributes that are really good," general manager John Dorsey said after drafting Russell. "You combine that with his person, his competitiveness. He has a great deal of toughness."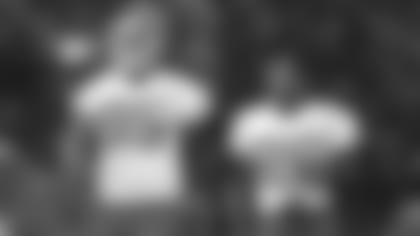 Through offseason workouts and two days of training camp, Russell has shown the athleticism on the field that got him drafted by the Chiefs in the third round. That is the answer to how he got here.
In his press conference, he explained the why.
Thus far, the coaching and player personnel staff has been impressed, but possibly the most important ingredient to it all will be the* who, *which comes Saturday when his veteran peers arrive.
"I want to show [the veterans] that I belong here and that they didn't just draft me because they thought I was OK," he said. "I want to show they drafted me because I belong with these guys. I want the guys like Derrick Johnson, Tamba Hali, Marcus Peters and the rest of them, who have made huge plays before, to believe in me and know KeiVarae is going to make plays for us and we trust him.
"If I can help this team win, that's when I'll start to earn the trust from the coaches and the rest of the team."