Sporting a polka-dotted button-up shirt and the boyish smile of a 21-year-old who knew he just did something well in a big situation, Kansas City Chiefs' rookie quarterback Patrick Mahomes  couldn't hide his excitement in the locker room after the Chiefs' 30-12 win over the Cincinnati Bengals Saturday night.
When asked what it was like on the field, Mahomes uttered the words, "It's always awesome," and proceeded to reiterate why he's considered a "football guy."
And frankly, Mahomes had every reason to be happy. It was his first NFL road experience and he had played pretty well.
Mahomes finished the game 10 of 14 for 88 yards and two touchdowns, and he also scrambled three times for a total of 29 yards. He showed a poise and comfortability on the field that must have surprised a lot of people, and the playmaking ability which defined his collegiate career at Texas Tech was ever present as well.
Since that performance, Chiefs coach Andy Reid has been asked many questions about his young signal caller, who just last week was moved up to the No. 2 spot.
"You're not sure until they get here," Reid explained of Mahomes' ability to develop. "You hear about the work ethic and all of that, but it's just different at this level. I've been very pleased with that part of it. [Mahomes] is a relentless worker, and he wants to be the best.
"All of those intangible things…he's kind of answered that part and done well."
Mahomes was given two opportunities to lead the Chiefs' offense to points against the Bengals, and they both resulted in 12-play, 75-yard touchdown drives.
To extend both of those touchdown drives, Mahomes had to be good when it mattered, and he was—going 4 of 4 for 47 yards on third down—converting each opportunity, including a third-and-14.
But there were also a few learning experiences.
"There were a couple of little hiccups, but nothing major," Reid added of Mahomes' performance. "It was good. He was seeing things. I think that motor was going fast when he first got in. He was excited to be in there with that first group and that early in the game—I think he kind of settled down and handled himself pretty well."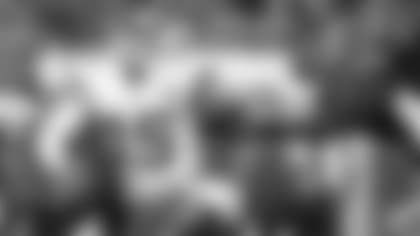 One guy who has been impressed with Mahomes' natural instincts and ability to settle down and handle what's being thrown his way is veteran Alex Smith, who was asked to share his perspective on what Mahomes is going through right now.
"It's easy to become robotic out there," Smith explained. "You've got so much coaching going on, and it's hard on game day, at least it was for me, to flip back into playing. I think [Mahomes] is much better and way more fluid at that, being able to handle the coaching. Once the whistle blows, you want to just get back to playing quarterback.
"There are a lot of things that he does instinctively and has done that have gotten him here, and you don't want to lose that. Even though you are getting coached on a gazillion different things—you just want to get back to playing ball. I think he does a great job of that naturally."
Again, the point is often made but never overstated, Mahomes' recent performances and development can be attributed in part to Smith, who is the ideal mentor and has been and will continue to be there if Mahomes has any questions.
"To have an Alex Smith in the room, I think for a young guy you just can't ask for more than that," Reid added. "To see how you handle yourself as a professional and go about working and not being afraid to ask questions, you can't pay enough for that."
"He always has a plan," Mahomes explained of Smith. "He always knows that if they play this defense, I am going to go here. If they play this defense, I am going there. Just seeing that and knowing how he always has a plan and he can get himself out of certain situations is something you learn from every single time you watch him."
Despite a couple of throws that were broken up and *could *have resulted in interceptions with a fantastic play from the defensive back, the play from Mahomes that most will remember came on a third-and-1 inside the red zone. That's when Mahomes found tight end Gavin Escobar for a seven-yard gain.
"We were trying to do a naked play, and hopefully the (defensive end) was going to bite down," Mahomes explained of the play-action, roll-out pass to the right. "But he played his position well and stayed on the right assignment, and I just tried to get outside of him."
Mahomes, who used a little stiff-arm on the defender, did get outside, somehow, and kept his eyes down the field.
"Escobar kept the play alive and kept moving across the field, and I just put it out there and he made a great catch," Mahomes said.
While it's the play from Mahomes that most people were talking about after the game, that wasn't his favorite throw of the game.
"I mean, I always love a touchdown throw," Mahomes laughed. "So, I'd probably say the one to [Demetrius] Harris just because he got the touchdown. I mean that's the big thing—you want to get the ball in the end zone."
Through two preseason games, Mahomes has completed 17 of 23 for 137 yards and three touchdowns.
---
The Chiefs next preseason test comes on the road Friday night against the Seattle Seahawks. The game can be seen nationally on CBS at 7:00 p.m. CT.