They devote their lives to protecting those that they've never met, selflessly stepping forward to defend all that we hold dear in this country.
These individuals don't join the service for recognition or fame, it's just simply what they feel called to do, forgoing personal ambition in the private sector to become a part of something much larger than themselves.  
They're the brave few who make up our Armed Forces, and some of the nation's very best are stationed right down the road at Whiteman Air Force Base.
The Kansas City Chiefs paid a visit to the base on Tuesday ahead of the annual Salute to Service game at Arrowhead this weekend, and as always, it was a trip to remember.
"We're just out here encouraging the troops and thanking them for what they do for our country," said offensive lineman Stefen Wisniewski. "I'm truly grateful for them. It's a rough life doing what they do, so to meet them and say thank you is special."
Wisniewski was joined by fellow offensive linemen Ryan Hunter and Greg Senat in addition to several Chiefs Cheerleaders at the event, which included the opportunity to get inside the cockpit of a B2 stealth aircraft and witness a K9 training demonstration before wrapping things up with an autograph session for members on base.
It was all made possible through a collaboration with the folks at USAA, which serves as the official Salute to Service partner of the Chiefs.
"This is about recognizing the service of these Airmen and letting them know that we appreciate them," said Gary Thompson, Retired Chief Master Sgt. and USAA Military Affairs Field Representative. "The Salute to Service [initiative] is really just that, it's an opportunity to salute their service and to show them how much we appreciate what they do."
That meant meeting dozens of active duty soldiers during the visit, including several that root for the Chiefs on Sundays.
"It means a lot to me that they're here because I was born and raised in Kansas City. Every Sunday, I'd sit with my dad and watch the Chiefs," said Senior Airman Robert Andrew Louthain.
"I grew up supporting these guys, so it means a lot to me that they're supporting what I do. It's a mutual thing and it's cool to see that what we're doing here is impacting others."
"It's a really humbling experience when they're just as excited to meet us," added Senior Airman Johnny Cox. "We really feel the appreciation. It gives us chills when we see Salute to Service stuff on the field or our B2s flying over the stadium. I see the B2s every day, but I still get chills when I see that."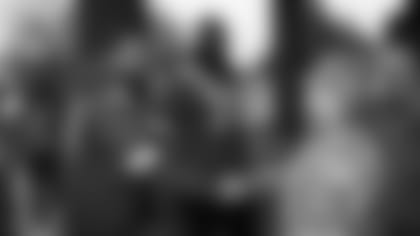 Indeed, the aircraft stationed at Whiteman routinely provide flyovers on game days at Arrowhead. It's tough to miss when a B2 or a squadron of A-10 Warthogs soar overhead prior to kickoff, and the Chiefs have returned the favor with numerous visits to the base over the last several decades. 
It's really a fitting relationship, too, because while the stakes and circumstances presented to our Servicemembers are certainly much greater, there are some commonalities shared between members of the military and football players. Traits such as teamwork, discipline and quick-thinking in the pursuit of an ultimate goal are present in both lines of work.
"It's kind of like when we go through basic training, you're thrown in a room with a bunch of guys that you've never met. It's a similar deal with football players when they first join a team," Louthain said. "In both cases, you're put in a situation where you have no option but to become a well-oiled machine where you can efficiently get things done. We bond in that sense by knowing how important teamwork is and that the people on either side of you are there for you."
The Chiefs seek to provide that support on a year-round basis, and it was once again felt on Tuesday as the franchise thanked the real heroes in our community. 
"I just love our military and what they do. I really appreciate the sacrifices that they make for us to keep us safe," Wisniewski said. "Any chance I get to thank them, I try to do so."