They defend our nation, perform missions around the world and, every now and then, make a grand entrance over Arrowhead Stadium.
They're the dedicated servicemen and women at Whiteman Air Force Base - just 60 miles away from One Arrowhead Drive - and on Tuesday afternoon, a handful of the Kansas City Chiefs' wide receivers paid them a visit.
"It was great to be here and to see what their daily lives are like," said wide receiver Marcus Kemp. "I really enjoyed learning about the planes and just what these individuals do every day. Meeting people that fight for our country is just an awesome feeling."
Kemp was joined by fellow wide outs Gehrig Dieter, Byron Pringle and Josh Crockett - in addition to several Chiefs Cheerleaders - on the visit, which began with a behind-the-scenes look at the B2 stealth bombers stationed on the base.
"It was pretty sweet," said Dieter, who had a chance to climb inside the cockpit. "They were talking about how the longest mission was 44 hours or something like that - I can't imagine sitting in one spot for that long, let alone in a cockpit. It definitely opened my eyes a little bit and was just cool to see."
The visit was particularly meaningful to Dieter, whose brother is currently stationed overseas.
"My younger brother, Thurman, is deployed right now in Iraq. He's been there for six or seven months now…I stay in contact with him all the time - we still play video games and stuff like that," Dieter said. "I appreciate everything that these guys do for us on a daily basis and, obviously, we wouldn't be able to do what we do without them."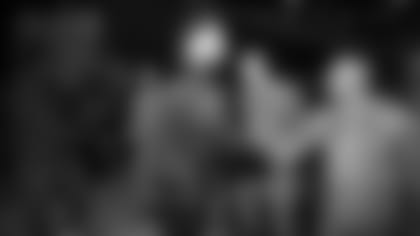 The players had an opportunity to show that appreciation throughout the visit, which culminated in a game ball presentation and an autograph session for the servicemen and women on base.
"It's great to have the players out here today spending time with the Soldiers and Airmen here on the base. I grew up in Missouri as a Chiefs' fan, so it's awesome to see them take time out of their day to come talk to us," said Capt. Derek Forst, who is stationed on base. "They were shocked today with the security – they lost their phones for a while – but they were pretty impressed with how many people work here in addition to the machinery, the aircraft and all of the stuff on base."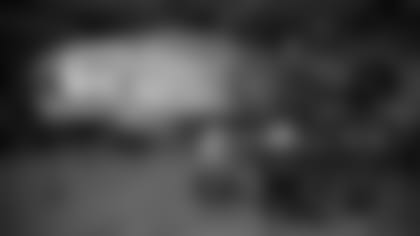 And, fittingly, some of those aircraft bore a familiar logo on their tails.
Whiteman houses the 442nd Fighter Wing, which includes several A-10 Thunderbolt II aircraft or, as they're more commonly known, "Warthogs," and these particular aircraft feature a version of the Chiefs' logo on their tail.
"The A-10s at Whiteman used to be at Richards-Gebaur Air Force Base, which is in the Kansas City area, and because of that, we became known as the 'K.C. Hogs," said Col. Roger Suro, Commander of the 442nd Fighter Wing. "These A-10s moved out to Whiteman in 1994, but we kept the K.C. Hog tie. We have the Chiefs' logo on our tail-flash and some other things that we have here."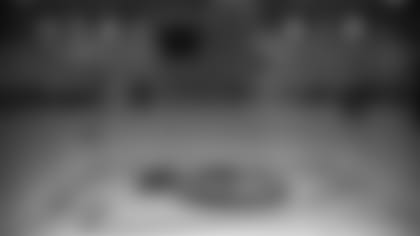 Those very planes often fly over Arrowhead prior to kickoff, and on Sunday, which marks the annual 'Salute to Service' game in addition to Veterans Day, they'll be doing just that.
"There's just a neat relationship there between Whiteman Air Force Base and the Kansas City Chiefs," Forst said. "We have the K.C. Hogs here and the B2s fly over Arrowhead all the time, so it's neat to have Kansas City so close."
The players had an opportunity to continue that relationship in person on Tuesday by meeting those that sacrifice so much for our country.
"When you enlist, you're basically writing a check to the country for anything up to and including your life. You can't have more dedication that that," said retired Command Sgt. Maj. Joe Romans, who now serves as a USAA Military Affairs Representative. "These professional football players had to work so hard to get to where they are – it takes daily discipline, physical fitness and emotional control – which are the same skills that it takes to be a good soldier. I think there's a bridge there, and this way, the players get to see this side of it for themselves."
"I idolize what they do and the sacrifices that they make," Kemp added. "It's amazing that they look up to me for playing a game – a game that I've loved since I was a kid – but they're the heroes."
For tickets to Sunday's Salute to Service game, click here.
Chiefs wide receivers, cheerleaders and KC Wolf toured several hangars housing A-10 Warthogs and a B-2 Stealth Bomber and met with service men and women to sign autographs and thank them for their service.