"This guy has a chance to be the best receiver in the NFL."
Those were the words from Kansas City Chiefs general manager Brett Veach on the signing of free agent receiver Sammy Watkins, who was introduced to the local media Thursday afternoon.
"It's an exciting time for me because I chose this, chose to come out here and spend hopefully the rest of my career here. It's a very blessed moment for me and my family," Watkins said at his introductory press conference.
Joining Watkins on the tour of his new facility were his soon-to-be-wife, Tala, and his two children—Samiah and Saliah, who at different times throughout the day were running around the facility with Chiefs' staff members or taking naps on their shoulders while mom and dad took photos at the conclusion of his introductory press conference.
It was a small reminder of how life for these guys is about more than just football, and so are the decisions they make.
Beyond his athletic ability and how he'll fit into an offense that rivals any in the league when it comes to talent at the skill positions—Watkins' decision on where to continue his NFL career was guided in large part by what'd be best for them, which is what you'd expect anyone in his position to say, but his explanation of the reasons behind it show a deeper look of what Watkins is really all about.
"I take pride in being the best dad and future husband I can be, and when making this decision, I just couldn't look at myself, the other players here or Andy Reid, I had to see what's the best fit for (my family)," Watkins explained. "They've got great schools, and a great program with the wives and kids, and that was a big thing for me because we were very involved in Buffalo.
"I'm not a big city guy or into that party life," he added. "I just wanted to be somewhere where I can be comfortable, where my family can be comfortable. My daughter's getting older…I can raise my family and be happy here, and that's what made me choose here."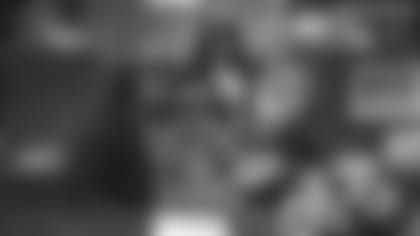 While taking a tour of Arrowhead Stadium later in the afternoon, Watkins' three-year-old daughter was running around and treating the empty stadium like it was her giant playground—playing with several of the staff members along for the trip.
"That's the best part about it," Watkins said in that moment. "I feel like it's a business, but it's not just business here. Everyone has made us feel welcomed, and I've got to open up a little bit, talk to people, and usually I'm not like this, but I feel like it's home for me."
But this wasn't Watkins' first introduction to Arrowhead Stadium—that came a few years earlier in 2015 in a game he still remembers well, and one he called "the best of his career."
"When I came here, I felt like I was in college again and it was easy to come out here and play and put on a show," he explained. "I can't wait to get out here and play in front of these guys."
Watkins, who was with the Buffalo Bills at the time, finished that game with six catches for 158 yards and two touchdowns.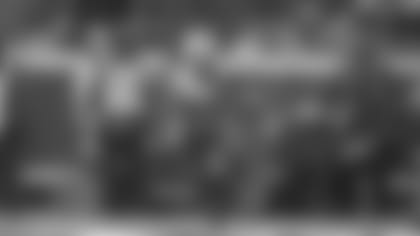 The fact that Watkins was even available for the Chiefs to sign in free agency is something Veach didn't take for granted.
"It's just hard to acquire these guys," Veach explained. "When we're sitting there in free agency and you see a 24-year old, elite playmaker, you don't get those opportunities a lot. We talked about it in the staff room, we may not get this chance again.
"We expect to win and we have one chance to go get him, let's make it happen."
Over his four-year career, Watkins has averaged 15.9 yards per reception, which ranks sixth-best in the NFL since he came into the league as the No. 4 overall pick by the Bills in 2014.
He has game-breaking speed and challenges any cornerback to try and press him, something coach Andy Reid said they "invite people" to try and do next year, particularly considering they also have another burner there in Tyreek Hill, who averaged 15.8 yards per reception last year, as well.
Reid said Watkins will begin as the "X" receiver, which means he'll be on the line of scrimmage and inviting that press coverage—if teams should dare.
But perhaps the most impressive stat from Watkins from last year is that he didn't drop a single pass. Not one, despite having less than a month to develop any kind of chemistry with Rams' second-year quarterback Jared Goff.
Watkins was traded by the Bills to the Rams in the middle of August, and he still managed to lead their team with eight touchdowns last year.
"I don't know what me and the ball got going on, but it's kind of like a magnet to me," Watkins explained of his mindset when the ball is in the air. "It sticks to me and we got that connection…no matter what the throw is, I'm going to go and get it."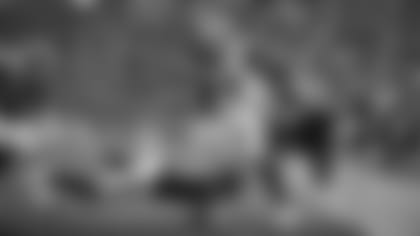 Now that he's tasked with learning another playbook, Watkins said he'll lean on those around him to get him immersed with the verbiage and concepts.
"I'm just going to lean on the coaches and the players," he explained. "I'm not going to be trying to rush anything, I'm just going to come to the coaches, lean on (receivers coach) Greg Lewis to help me out. There are players that have been here two or three years, those are the players I'm going to be asking a lot of questions and going to.
"I'm not going to be perfect. I'm going to mess up probably early on, but that's just part of the process."
One player who he'll undoubtedly develop a relationship with is quarterback Patrick Mahomes , who has already texted a bit with Watkins.
"I put my faith in the coaching staff and [Mahomes] not just to be my quarterback, but to grow with him as a friend and as a man and lead this team," Watkins explained. "He's going to be the leader of this team and I'm going to be behind him 100 percent. I just can't wait to catch one ball from him, to just really make it feel so real."
What became real for Watkins on Thursday is that for the first time in his NFL career, he got to choose where to play, and he chose Kansas City.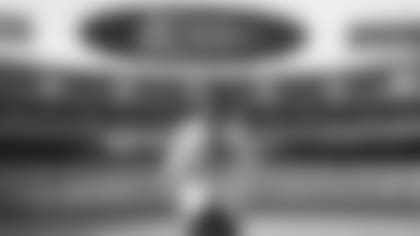 At different points throughout the day he noted Reid's resume of working and getting the most out of players—guys like Terrell Owens, DeSean Jackson, Tyreek Hill and others, as part of the reason for joining the Chiefs, but mostly, he spoke about his family.
"At the age of five or six, I always told my parents I'm going to make it to the NFL," Watkins explained. "Not just be famous, but I'm going to take care of my family. I found my purpose on what I want to do in life. Football just showed me good and bad. It can raise a boy to a man. I started off and gained relationships, teammates, coaches—you just gain so much from being a football player, and not just the accolades—the yards and the stats and fame, but it's moments and memories that'll last forever.
"Your kids can grow up and look back on this and see that, 'Hey, daddy was a good man and a good person.' It's just a great opportunity to showcase your brand and who you truly are, and I finally kind of opened up to the world and am just being myself."