Cancer doesn't discriminate.
It affects people from all different walks of life, from everyday people to professional athletes.
The NFL has worked to tackle breast cancer for nearly a decade, and is bringing that fight to multiple types of cancer this season as it expands its "Crucial Catch" initiative.
The campaign, which has raised more than $18 million since 2009, emphasizes the importance of early detection and risk reduction with the ultimate goal of defeating cancer.
The Kansas City Chiefs will dedicate this Sunday's game against the Pittsburgh Steelers to the effort, while honoring seven local survivors of the disease – each of which battled a different type.
The seven survivors were invited to a luncheon at The University of Kansas Health System Training Complex in August, where they watched practice with Chiefs President Mark Donovan and General Manager Brett Veach before meeting a number of players afterwards.
"We were trying to find ways to engage with people and to create more awareness," Donovan said. "I think being able to do it with people who are actually survivors of these cancers really brings it home. These are Chiefs fans who have been through this, were treated and, in a lot of cases, are in remission. This was a great opportunity to bring them out here and do something for them."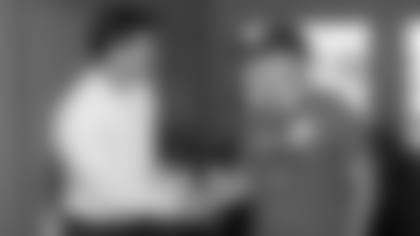 Following the luncheon, the survivors in attendance - Corina Ramirez (Colon), Samantha Hardisty (breast), Kristina Traughber (cervical), Donald Hall (prostate), Bettye Givens (lung), Tim Grimes (melanoma) and Aiden Burkhart (sarcoma) – were all invited to the Chiefs "Crucial Catch Game" against Pittsburgh on Oct. 15.
This week, we will tell each of the seven survivors' stories.
We'll tell a different story every day, starting Tuesday, in either written or visual form before the Chiefs kick off the Crucial Catch Game on Sunday.
Each is a story of courage, perseverance and the will to survive.
Many of them were once given months to live, battled the odds and now stand as an example of what people can do when we work together in the fight against cancer.
To learn more about early detection or to schedule a screening, visit this link.
Cancer survivors were invited to lunch with Mark Donovan and Brett Veach where they were able to watch a practice and meet some of the Chiefs players.