The Kansas City Chiefs have been tested in a lot of different ways this year, and through the first 12 games of the year, they've passed a lot of those tests.
They have been down, fought their way back and came out victorious on numerous occasions. They have overcome key injuries and come out on the other end with one of the best records in the AFC.
Last Sunday against the Atlanta Falcons, the storyline throughout the week was how the Chiefs would respond coming off a thrilling overtime win in Denver the week before.
Would there be a letdown?
In fact, they once again rose to the challenge in a game that could have easily slipped the other way with any lapse in concentration.
The MVP of the game, Eric Berry, once again showed his leadership.
First, Berry made two of the most memorable plays of the season—a pick-6 interception return for a score and then a game-winning pick-2 score late in the game. Then, he showed what he's about in a moment that could have been all about him—his day, his plays and his story—but it was about something bigger than that.
"Like I tell the team, it's all about the process," Berry said after the victory. "When you put in work and put everything into the process, the product is always going to be good. There's no reason to be surprised. We can clean up some things but there's no reason to be surprised or get too high about this win.
"We still haven't reached our ultimate goal, so there's no reason for us to act like we did. Yes, it's a step in the right direction, but we still have a lot of work to do."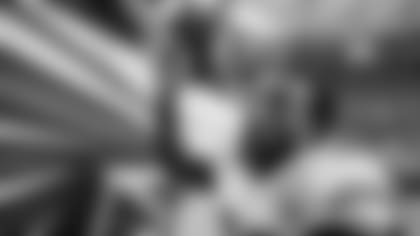 That work for Berry and company starts quicker than usual as the team prepares for a Thursday night showdown with the division-leading Oakland Raiders (10-2), who are winners of six straight.
"A lot of us have been here all night getting ready for the players coming in (on Monday) and making sure we have the game plan right for them," Chiefs coach Andy Reid explained of their preparation. "[The players] don't come in until later (in the afternoon), so we'll keep meeting and will make sure to give them some well thought-out information."
When asked what can be taken away from playing a familiar opponent on a short week, Reid said there's a benefit, at least for the coaches.
"That part doesn't hurt," Reid explained. "I think it's tough on the players. The coaches aren't having to do the physical part of this. It's hardest on the players, especially the later you get in the year when guys have some wear and tear on them.
"You saw us rotating a lot of guys (on Sunday against the Falcons) – we have a lot of defensive players up so we were able to do that – so that helps. We tried to get everybody out there with a chance to play."
One of the aspects of this week's preparation that's not been given enough attention is the work done behind the scenes to get the players' bodies right on a short week.
"(Head athletic trainer) Rick Burkholder and (head strength and conditioning coach) Barry Rubin on a short week end up being very important right away, and you have to take care of business," Reid added. "We will practice (on Monday) and we'll have everyone out there. We won't be doing much but we have to bring it all in and it's just one of those things with a Thursday game."
Burkholder, Rubin and their respective staffs have a tough task on a short week, and they're a key cog in getting the guys ready for one of the biggest games of the season.
In their meeting back in Week 6, the Chiefs won the game over the Raiders convincingly by a score of 26-10, but they were coming off a bye and had plenty of time to prepare, which obviously isn't the case this week.
It presents a new challenge to the battle-tested Chiefs.
"Everything is sped up," quarterback Alex Smith, who is 8-1 in his career against the Raiders, explained after Sunday's win over the Falcons. "Even right now, normally we talk about the 24-hour rule; enjoying a win or getting over a loss and bouncing back, now it's basically a plane ride home. It's that short of a week; division game coming up and it'll be a big atmosphere so everything is sped up.
"So I think that recovery is important, guys taking care of their bodies and trying to get it back as soon as possible is the most taxing thing."
When asked about his mindset following his MVP-like performance on Sunday, Berry unsurprisingly said all eyes are looking forward.
"I'm ready for the Raiders," he explained. "We have a short week, so there is nothing we can do about that. So on the way back (from Atlanta), we'll watch the Raiders and see what they did."
The Chiefs will be looking for their ninth straight win over a divisional opponent on Thursday, which is the longest current streak for any team in the NFL.
"I think both teams know each other," Reid explained. "(The Raiders) have made some changes defensively, not as many offensively, but they've made some changes that have made them better on that side of the ball. So I think they're playing very well all the way around.
"People were down a little bit on their defense and I think they've picked it up in that area. They're flying around and making plays. They know us. We'll tweak a couple things here and there but, for the most part, you're doing what you do."
For the Chiefs, what they've done this year is answer the call any time things get difficult, which in what looks like to be below-freezing temperatures on Thursday, just gives them another opportunity to prove it.