Senior Bowl week is over, following the South team's 20-10 victory over the North team on Saturday in Mobile, Alabama. Congratulations to the game's MVP, Auburn DE Dee Ford.
Aside from completing practices at Ladd-Peebles Stadium and the game itself, as well as team meetings, the players also met variously with club representatives from each of the league's 32 teams. Chiefs Assistant Director of College Scouting Dom Green described the motive of such interviews.
"You just want to get to know them," Green said. "We're trying to find out about the person, what makes him tick. You hear a lot about them in the fall and you're trying to get the difference between what's reality and what's a myth about the guy. You ask a lot of questions, like what motivates him to love the game of football?"
Each player we had the privilege to speak to this week was thankful for the Senior Bowl invite and addressed a wide variety of topics, some of which are highlighted below.
Michael Sam - Missouri OLB
(On being the SEC Defensive Player of the Year)
"That's an honor. It's a great honor and I wouldn't be here without my teammates. They rallied around me all year and they believed in me and I love them. (My goals this week) I want to accomplish that I got better every day and that I got better in my technique and in my fundamentals every day."
RaShede Hageman - Minnesota DT
"Growing up in foster care and not having a father figure and having my mom incarcerated and knowing I was able to stay on the right path and focus and just have football be part of my life, I'm just thankful that football helped save my life. I was willing to just stay committed and stay devoted to it and I felt like it definitely got me to where I am now."
(Describing his strengths)
"I'm athletic, strong and I have speed. I feel like it's going to help me, having played basketball in the past; I'm going to be able to use that a little bit as I play d-tackle."
Jordan Matthews - Vanderbilt WR
(On having Hall of Fame WR Jerry Rice as a cousin)
"It's cool, but at the same time, I don't like to try and bother him. He's a very busy guy, but I have been able to talk to him. I talked to him a little bit last season; he gave me some advice about how to finish out the season and coming into this process as a kid to keep your head down and just keep working."
"Right now, it doesn't mean too much, because I don't have any catches in the NFL and that's what I'm trying to go to next. I've told people all the time that I haven't really had time to reflect on it, because once those records came, I was already moving on to the next phase of my life. I'm really just focused about moving on and playing in the NFL and trying to make a roster spot. I'm going out there and working hard and maybe, when I'm like 60 or 70, I'll be able to look back on it and really appreciate it."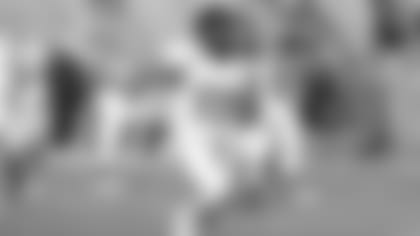 (Personal goals for the week)
"My goal is to win. I don't care if it's an All-Star game; I'm going to make sure I do what I can to help us win. We have some great guys, so I'm just trying to work hard for them and put on a great show for the fans, but also individually, just go out there and compete every day. God has definitely blessed me with a lot of ability. I don't think I'd be anywhere close to where I am if I didn't have the work ethic instilled in me by my parents and also my brother and just being around a hard-working family. I never get complacent. One of the things I feel is my mantra is I never spend too much time looking at where I've been."
(Describing his missions trip)
"I went the summer before my senior year; it was a great experience. I spent ten days in Ghana, Africa. I was working with an orphanage down there. I spent the time with the orphans down there. It was definitely a humbling experience. It put stuff like football and really going to the NFL into perspective. It makes you realize how small some of these things are and the problems we go through, how they're nothing really compared to what other people are going through in their daily lives. It was definitely a great experience and I think it's really helped me carry my football career to where it is now, because I know the place football is in life. I'm able to put it there and be able to focus on it, but also not make it too big."
"It's very enjoyable. You come out here and you get to meet all these players that you hear about. You come out here and get to meet all these coaches and NFL coaches and it's really just an enjoyable moment."
(On 2013 and his career at Penn State)
"I had a good year. I wouldn't have done it, without my teammates. I had a great quarterback, a good team and I really miss those guys and without them, I wouldn't be where I am today."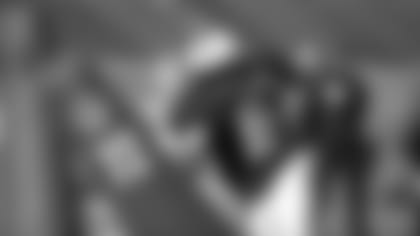 (On former PSU star, Tamba Hali)
"Tamba, he's an amazing player. When I first went to Penn State, I got to train with him, my first three years and what you learn from him is to just work. He never stops working. You have to work and be reliable all the time and I really think that it's an honor to be able to train with him. He's one of the league's best and me going to Penn State, he's one of the reasons I chose (jersey #) 91."
"My goal is to come out here and be a physical, dominant player and show these teams what I can do and just be on top of my game."
(On winning the national title)
"It was awesome, a dream season. Not too many teams can go 14-0 and get to and win a National Championship, so, I was real proud to be a part of that. That game was crazy; it came down to the wire. We were able to pull it off. Auburn fought hard, but we were able to pull off the win. It's just amazing."
(On his game-winning return against Alabama in the 2013 Iron Bowl)
"The play was, at first, he was lined up to go out to a field goal, but one of my teammates, Ryan Smith, he decides to move back and I guess he gave coach Malzhan, coach came up with the decision to call a timeout and put me back there and I knew he was going to miss the field goal, but I didn't know it was going to be inbounds. I knew if I had the chance to return it that I had a pretty good chance of scoring, because they didn't have bigger guys on the field. It was great blocking all over the field. Like I said before, I can't take all the credit, because by the other ten guys, it was good blocking, all over the field. So, they have to get much of the credit, definitely.
"I knew God had a plan for me and I decided to let it up to Him. I give God all the glory for all my success."
(On playing in the Senior Bowl)
"It's great competition out here. I'm just glad to be a part of the Senior Bowl. It was one of my goals I had coming into the season and I'm glad that I accomplished that goal. This event, with all the scouts, I'm trying to catch the eye of all the scouts out here, with my play and show them that Chris Davis has the ability to play."
Congratulations to the following Senior Bowl offensive and specialist award winners, announced during the Alabama Power Practice Awards ceremony at the annual Player's Banquet on Thursday night.
Most Outstanding RB: Charles Sims, West Virginia
Most Outstanding Receiver: C.J. Fiedorowicz, Iowa
Most Outstanding Offensive Lineman: Zach Martin, Notre Dame
Most Outstanding Specialist: Cody Parkey, Auburn