The Kansas City Chiefs are taking on the Dallas Cowboys for the first time in four years on Sunday, but a portion of the Chiefs' locker room is already familiar with Cowboys' quarterback Dak Prescott.
The NFL's reigning Offensive Rookie of the Year was a star at Mississippi State before lining up under center for the Cowboys, and crossed paths with a couple Chiefs during his collegiate career.
"He produced at the highest level in college and he's producing now at highest level that you can reach, so he's a good player," said linebacker Reggie Ragland. "We just have to do a good job of getting to him and making him frustrated. If we can do that, we got a pretty good shot."
Ragland, an Alabama product and the 2015 SEC Defensive Player of the Year, faced Prescott three times while playing for the Crimson Tide.
One of those meetings was in 2014, when Prescott led the Bulldogs to the top spot in the College Football Playoff Rankings before falling to the Tide late in the season.
Ragland's 10 tackles were the second-most for any player in the game.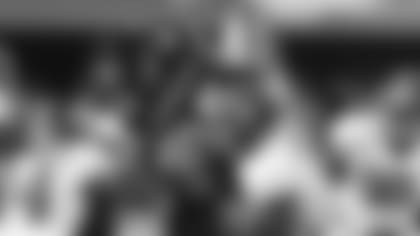 "He had them as the No. 1 team in the country," Ragland said. "You could tell then that he was a good player, and then I played him my senior year and he still had a good game, but we beat them. He's an even smarter player now and he can do it all, so we'll have to do a good job of containing him."
Defensive tackle Rakeem Nunez-Roches also faced Prescott in 2014 while at Southern Mississippi.
On hand for each of those contests was Chiefs defensive tackle Chris Jones, who was teammates with Prescott for three years at Mississippi State.
"It's always fun when you get to play your college guys," Jones said. "It's always a competition of who can outdo who. This time it's Dak, so I want to sack him, get in his face and talk some trash."
Jones and Prescott were two of the three Bulldogs selected in the 2016 Draft.
"I'm excited to see Chris out there," Prescott said. "I know he's had a great year and he's done a good job, so I'm excited for the game. He's just a goofy guy, his trash talk is pretty funny."
Relationships aside, it's all about football on Sunday.
"I'm proud of him and what he's doing," Ragland said. "But right now, he's just another player and we got to go out there and try to knock him off."