While the downpour of rain kept the Kansas City Chiefs indoors for their morning walkthrough on Thursday, the sun later made an appearance, before the team completed its practice outside, as originally planned.
Just like previous Thursdays, during the season, Chiefs coordinators, Dave Toub (special teams), OC Doug Pederson and DC Bob Sutton, each spoke to the media, leading up to Sunday's game with Tennessee.
Coach Toub addressed reporters first, being asked largely about the popular 89-yard punt return score by Chiefs WR Dexter McCluster in Week 4.
"Punt return ability, that he has, is a natural thing," Toub said. "It's the same thing when I had (Chicago Bears KR/PR) Devin Hester, he has the same thing, you don't coach it; you tell your hold-up guys where to set it up, where it possibly could hit and then the returner has to have a lot of natural instincts. There's always going to be somebody he has to make miss, no matter how well you block, you can't block them all. That (return) was a lot of natural, instinctive moves that you saw from Dexter."
McCluster echoed Toub's thoughts about punt returns and natural instinct.
"Yeah, most definitely," McCluster said. "Sometimes, you just have to react to what you see, and I was doing a lot of reacting and it worked out for me."
When McCluster isn't returning punts, he'll be involved with the Chiefs offense, which will be tested against a Titans defense that is tied for third in sacks (14), eighth in takeaways (nine) and ninth-best in the NFL for allowing 313.3 net yards per game.
Chiefs offensive coordinator Doug Pederson says his team is preparing for the tough road test, requiring more great play from his guys, including WR Dwayne Bowe.
"He's such a team player," Pederson said. "If someone else can benefit from him being doubled, then he's going to keep doing what he's doing. He loves to compete and we're still going to dial his number up and if he's there, we're going to take it; if not, we'll go somewhere else with the ball."
All season long, Bowe continues to make a huge impact for the team, both with the ball, 13 receptions for 148 yards and two TDs, and without.
"I want to do whatever it takes to win," Bowe said. "If that means drawing other defenders to me to leave other receivers open, I did my job. If it's catching the ball and making a touchdown or making a down the field block, it's all equal, you still get seven points. My job is to help this team win and that's what I'm trying to do."
Meanwhile, on defense, the Chiefs will look to add to their league-high 18 sacks, as well as their tied for third-ranked takeaway ratio (12) by continuing with the collectively-strong effort the team is used to in 2013.
On Thursday, Chiefs Pro Bowl LB Justin Houston, who is tied for the league lead in sacks (7.5) with Colts OLB Robert Mathis, was named the AFC Defensive Player of the Month for September.
"Justin has had a great first four games," Chiefs defensive coordinator Bob Sutton said.
"He has played really well. I know a lot of accolades come because of the pass rush and the sacks, but he's been a really complete player. He drops in coverage; he plays the run pretty good and he's obviously been successful against the pass. I think when you do all those things, that makes it a lot harder for the offense to plan and say, 'Hey, we're going to slide the protection.' Well, hey, he might not be in the rush; he might be somewhere else and now you've got Tamba Hali on the other side. Those two guys have certainly complimented each other and the inside presence that Justin talks about all the time has helped him become successful. A lot of the sacks he's got is because of other people tenaciously going after the quarterback. It's been a group effort. We're certainly excited for him and proud of what he's done; that's a great thing for him to have. We have to keep getting him better."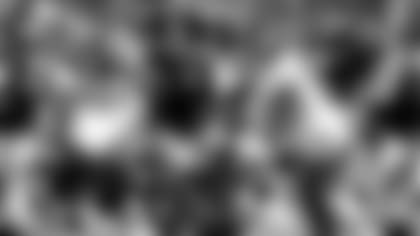 ](http://www.kcchiefs.com/media-center/photo-gallery/Chiefs-vs-Eagles-Photo-Gallery/e85253e5-4e19-49a0-accd-2c1437444840#39b78b1a-6348-485e-bfaf-db107e79d612)
Houston shared what he believes is the biggest improvement in his game, this season.
"I think just understanding the game," Houston said. "The whole game, reading formations, studying the tackles, just knowing the game better."
He also shared his thoughts on winning another award in 2013.
"It's a great honor," Houston said. "All the credit goes to my teammates; it's a team award."
The Chiefs return to the practice fields on Friday, before traveling to Tennessee on Saturday, leading into Sunday's matchup with the tough Titans team that awaits.