It was the day Arrowhead became Arrowhead.
The Denver Broncos had just squandered the lead, and John Elway's offense was taking over at their own 1-yard line.
It was December 9, 1990, and the noise was deafening.
"Each and every home game was just getting louder and crazier," said former Chiefs defensive tackle Bill Maas. "It got to the point where if you were backed up in the end zone, you couldn't hear yourself think - and we knew that. It was such a great advantage for us because if we saw any flinch out of the corner of our eye, we were coming.
"That's when Elway started looking for some help from the referee."
Elway pulled back from under center, placed his hands on his hips and glared at head referee Gordon McCarter.
"The Broncos' coaching staff was very knowledgeable of the rules, and the noise was brought up before the game and it was discussed," said Ron Baynes, the line judge that afternoon. "There were a lot of referees back then that were just going to ignore that type of thing.
McCarter halted play as he prepared to address the raucous crowd.
"I have asked the defense to help lower the crowd noise," McCarter declared. "Any further crowd noise problem will result in a charged timeout against Kansas City. Thank you for your cooperation."
McCarter's composure in the moment is what stood out to Baynes.
"Gordon was very meticulous about things, our pregame meetings were long, and he was going to go by the letter of the law," Baynes said. "He wasn't the best microphone guy we had, and he didn't talk a lot on it, so when I heard the announcement, I was really kind of impressed with his explanation."
Clear as it was, it didn't work.
"I swear, it got even louder," Maas recalled. "They went crazy. Like, 'This is us, this is the ruckus that we're causing. You can hear us, and we're a part of this game.' It's when the fan base took on a life of its own."
Elway looked at McCarter again, but he wasn't getting any help this time.
"I remember John looking at him like, 'Are you going to help me here?'" Maas said. "He just pointed his finger forward and said, 'Go ahead and play.' All it did was energize the fans even more."
The rule was implemented in 1989 as indoor stadiums became more prevalent around the league.
But this was unique as it was all happening outside.
"I had never seen a warning issued to an outdoor stadium, and it never happened to me again," Baynes said. "It happened a few times in some indoor stadiums, but that was the only time in my career I know for sure that I had an outdoor stadium warned for the noise.
"And it just added fuel to the fire."
"Honestly, it felt like we had 80,000 people on our side rushing against their 11," Maas said "That's what it felt like – we were going to get there. We rattled Elway's cage pretty good that whole game."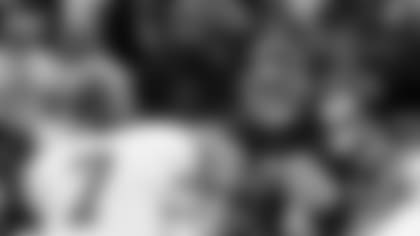 A penalty was never actually assessed and the Chiefs went on to win the game, 31-20, but the moment meant more than just a win over a division rival.
It was the beginning of a culture.
"That's when Kansas City really started being such a difficult place to play," said Kevin Harlan, the Chiefs radio broadcaster at the time. "I think that game put Kansas City on the trek to doing what they did a couple years ago, when they set the noise record. Its birth, if you will, was probably when those words came across that official's microphone during that game."
It began a trend of Chiefs fans coming to the game to not only watch, but to participate.
It's something that Baynes, whose grandparents were from Joplin, Mo., could feel even that day.
"It was always a good, enjoyable place for me to go work ball games and the people were always so enthusiastic," Baynes said. "It was just a good ole middle of America type crowd, and they were so passionate."
Twenty-seven years and a couple of noise records later, the Broncos will be back in Kansas City on Monday night.
Elway is still calling the shots in Denver – this time as the General Manager – and several of the Chiefs' players from that day will be in attendance for Alumni Weekend, including Maas.
And if one thing is certain, Arrowhead will be rocking once again, just as it was on that December afternoon nearly three decades ago.
"Every time I'm at Arrowhead, or down on the field especially, it's just a special feeling that only the guys that lined up down there and wore the red and gold can really understand," Maas said.
"It's a bond, and you'll never forget it."