It was a private moment during a very public week.
"When I was in the locker room, it hadn't hit me yet. But once I stepped on the field, I was like, 'OK, I'm really here. It's time to go.'
"I wanted to cry, but I knew people were going to be looking, so I was like, 'No, I'm good.' I'm going to hold it in and just keep it to myself."
That's what was going through the mind of former West Alabama offensive playmaker and return specialist Tyreek Hill before his first rookie minicamp practice on Saturday.
The Chiefs took Hill with one of their fifth-round picks (No. 165 overall) in the 2016 NFL Draft, and as soon as the pick was made, there were going to be plenty of questions.
The actions of his past had put him in the position in which these questions needed to be asked, and over the weekend, Hill stood open and honest at rookie minicamp in front of the local media, answering questions for the second time in a week about the steps he's taken to become a better person over the past year.
It was because of these actions in trying to become a better person and having taken responsibility that led general manager John Dorsey and head coach Andy Reid to giving Hill a second chance.
After the final minicamp practice on Monday, Hill opened up about what kept him focused over the past year.
"There were some days that I wanted to quit throughout all of this," Hill explained, "but my grandparents are a big part of my life and they just continued to push me and motivate me, and kept me humble and grounded throughout all of it."
Hill recalled one particular conversation he had with his grandmother that stuck with him.
"She said, '20 years from now when you've had your family, and you've done your thing and you're just sitting on the couch, you're going to be like, Man, I wish I would've done this or I wish I would've done that, but that can't define you.'
"I think about what she told me and I think of the future. I told myself I'm going to try and live by that."
It was his grandmother's words that helped him to the position he's in today, and it made the moment he got the call he's waited for his entire life even more special.
Although his grandma wasn't in the house when he was drafted because she had just left to go to the store, she rushed home immediately after he told her the news.
"She picked me up off the ground," Hill said, laughing at what happened when his grandma came through the door. "This short lady picked me up and I'm like, 'What are you doing?'
The Chiefs had added a dynamic playmaker to their offense and special team units.
Hill had 4 return touchdowns for West Alabama last season and 4 plays of at least 60 yards on offense.
He was clocked at a 4.25 40-yard dash at his Pro Day, which would have been the best mark at the NFL Scouting Combine this past year.
"He's probably the best returner I've scouted since I've been in the NFL," Ryne Nutt, the area scout who initially evaluated Hill, said after he was drafted, "just elite explosiveness."
Hill proved to be a playmaker in college and that carried over to this past weekend, when he took advantage of his opportunity amid all of the eyes on him and questions being thrown his way.
Hill said he's felt welcomed by his new teammates.
"The guys here, they welcomed me in just like a brother," he explained. "It was just all love, everywhere you go. They're making me feel comfortable and that's all that I really can ask for. I wanted to show them that I can be a good teammate and that I'm willing to work.
"When we're between those lines together, I'll do anything for them. They've got my back and I've got theirs."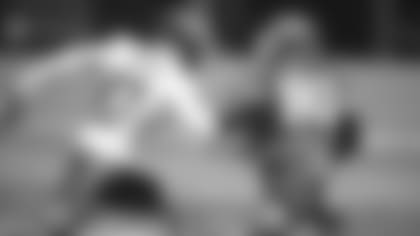 Hill made plays throughout the weekend during seven-on-seven and 11-on-11 team drills, even taking "live" punts off the foot of assistant equipment manager Jay White early in practice.
While the other guys received punts off a machine, Hill took them live. White ran up in front of the machine to kick it every time it was Hill's turn.
"Just to see what he can do with them," Reid explained after practice of why Hill was the only one to take punts not off the machine. "We couldn't do all of it because Jay couldn't handle it. No, I'm kidding. Jay—that's quite a deal when one of your equipment guys can be a punter too. That's not bad."
Despite all of the abilities he showed throughout the weekend and the questions he had to answer, Hill wasn't satisfied with his performance.
"I've got to get better," Hill said. "There's no perfect day. I'd give myself a C. People probably said I made plays, but I didn't make enough plays. I've still got to get better."
Part of making plays is understanding the playbook, which in an Andy Reid offense, is no small task.
That said, Hill said he's comfortable with what's been thrown his way in regards to the playbook, saying he "just wants to know every position," and that "it's coming fast."
Fast is a word that will be often used to describe Hill moving forward, but his focus is simple.
"The only thing I'm really thinking of is just doing my counseling and playing football," he said. "That's it. Everything else will just take care of itself. I'm just really thankful for those guys believing in me."