The guy is an outstanding football player, who also doesn't happen to have a left hand.
That's the order in which University of Central Florida linebacker Shaquem Griffin's story should be told, but beyond the limitations that some people will try to bestow upon him as he goes through the NFL evaluation process, which for him began at the Senior Bowl in Mobile, Alabama this week, the inspiration he's providing to those witnessing his abilities isn't lost upon him.
"When I first started playing football (as a kid), obviously, it was hard to see it then," Shaquem explained. "But I was able to have faith in myself and able to do what I do and stay determined on what I actually wanted from life to prove everyone wrong—not only for myself, but for those on the outside looking in.
"I'm thankful and obviously blessed to be here, and that's why keeping the faith and staying dedicated can bring you a long way."
Shaquem suffered from Amniotic Band Syndrome, a prenatal condition in which a strand of amniotic membrane can wrap itself around and basically strangle an extremity, causing deformity that often results in amputation.
Shaquem had the amputation when he was four years old, but he never let it affect his desire to excel at football, which is exactly what he did over his last two years at UCF.
He was one of the key players on a UCF team that ran the table last season and nearly busted open the BCS system. They finished undefeated and beat Auburn in the Peach Bowl, 34-27. Earlier in the year, Auburn had beaten both Clemson and Alabama, who would face each other for the national championship.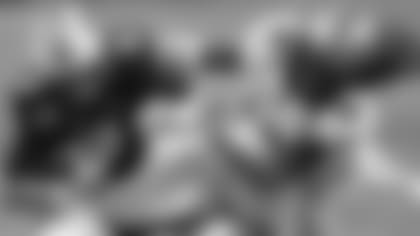 "It taught me a lot from what it's going to take for us to win, how hard it is," Shaquem explained of their special season at UCF last year. "The work you have to put in, that nothing comes easy, and obviously there's going to be times when there's a tough situation you have to overcome, and you're not the only person who has to overcome it—you have to bring the whole team along."
And despite having just one hand, Shaquem found a way to control much of what UCF did defensively over the last two years, racking up 166 tackles, including 33.5 for loss, 18.5 sacks, two interceptions, 10 passes defensed, four fumble recoveries and four forced fumbles.
He earned second-team All-American honors last year.
Shaquem has a twin brother, Shaquill, who was born one minute before him and is currently a starting cornerback for the Seattle Seahawks. He said that watching his brother go through this process last year has helped him be prepared for what to expect.
"It's made it easier for me," Shaquem explained. "I'm ready for these situations no matter what it is, and at the end of the day, you always take control of controllables. That's what I'm doing now."
It wasn't always easy for Shaquem to only worry about what he could control. When he was younger, it was easier for people to dismiss him.
"It was a lot of adversity," Shaquem explained. "When I was in little league, I remember I had a little league coach telling me that this game was for two-handed players. I mean I've seen plenty of rulebooks and I've never seen that rule. I mean hearing that, I took it upon myself to make sure I showed everybody it didn't matter if I had one hand, two hands, or three hands—I can play football."
Shaquem has shown that he can play football through two days of practices at the Senior Bowl, but outside of having just one hand, which brings its own questions, the other thing evaluators have to determine with him is where he best fits. He checked in at just 6-feet-1 and 220 pounds, which is small for an NFL edge rusher, where he played at UCF.
"We're trying to move him around. I think that's what the NFL wants to see," Houston Texans' coach Bill O' Brien, whose staff is coaching the South squad, said of Shaquem. "We're trying to do things so everybody can get a look at him at safety, at linebacker, and maybe even as a DPR (designated pass rusher) and on special teams. We moved him around a lot (Wednesday)."
As he continues to go through this process, Shaquem knows there will be some who doubt whether or not he can play at this level, but he doesn't let it affect him.
"Throughout the years, I developed tough skin for myself to be able to withstand certain situations and certain comments that are going to be said to me," he said. "And the only thing I can do is not really worry about what is being said, but show them what I can really do. That's why I'm here. That's why I'm ready to show the guys and show everybody what I can really do, and know when it comes draft day, I'll be sitting there waiting with my family.
"It's going to be one exciting process."