It was a day to remember for 15-year-old Lukas Losen on Tuesday morning at Chiefs training camp.
Losen, who tragically lost his brother, Reat Underwood, and his grandfather, Dr. William Corporon, in the shootings at the Jewish Community Center in Overland Park, Kan. on April 13, 2014, watched practice from the family and VIP tent and later had a chance to meet a handful of players on the field.
"Every Sunday, my dad and I are sitting on the couch and yelling at each other about the Chiefs games," Losen said. "It's amazing to be out here."
Losen watched the end of practice from the field before meeting running back C.J. Spiller, linebacker Derrick Johnson and long snapper James Winchester. The meeting with Winchester was particularly significant, as Winchester lost his father in a similar incident last November.
"It was pretty cool because he lost his father and I lost my brother, and we were both really close to both family members," Losen said. "I think he and I are going to be good buddies in the future. I got his contact information and he's going to take me hunting and I'm going to take him golfing."
The conversation had an impact on Losen.
"It's amazing to know what he's gone through and know that he's pushed through it," Losen said. "He said something that really meant something to me today, 'I never expected to be in the NFL, but it was always my dream.' He said he never stopped pushing."
It was a simple gesture for Winchester, who stressed the importance of supporting one another through difficult times.
"I think we can all help each other," Winchester said. "You feed off the positive things."
Losen, a Texas Tech fan, also had a chance to meet one of his favorite former Red Raiders: rookie quarterback Patrick Mahomes.
"It's been my dream to meet him ever since he was drafted," Losen said. "Just being on the same field as him was pretty cool."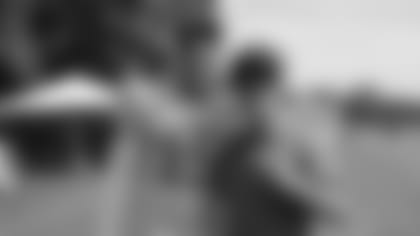 Losen nearly met Mahomes last spring when he traveled to Texas Tech to watch him play, but it didn't work out. He finally met the Chiefs first round pick on Tuesday.
"My dad is a big Texas Tech fan and I convinced him to go to one of Mahomes' last home games," Losen said. "We knew the athletic director and I was supposed to meet Mahomes then, but I was too young to go on the field, so ever since he got drafted it's been my mission to meet him."
Losen's mother, Mindy, was a Chiefs cheerleader in the early 1990s. Following the tragedy, she helped begin the Faith Always Wins Foundation, which is dedicated to the memory of the lives lost that day while striving to promote diversity and understanding across cultures and faiths.
"My mom is the strongest person I know," Losen said. "She's 100 pounds less than me but 50 times stronger than me. She's my inspiration."
To learn more about the Faith Always Wins Foundation and its SevenDays movement, visit their website at faithalwayswins.org and givesevendays.org.