More than 60 USA Football coaches and league commissioners from Kansas, Missouri, Iowa and Nebraska visited Chiefs training camp in St. Joseph, Mo. on Sunday, August 9.
"It's just great to see a lot of faces from the Kansas City area," said Maggie Beutler, USA Football's coordinator of member experiences. "A lot of commissioners and coaches brought their kids out, and hearing from them the impact that USA Football has made on their leagues has made it a good day."
USA Football is the national governing body of football and, according to the site, "leads the game's development, inspires participation, and creates a better and safer experience for all youth, high school and other amateur players."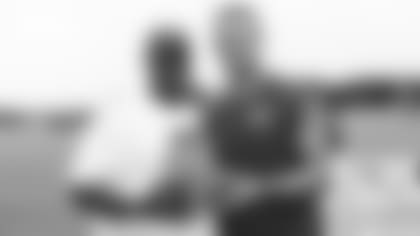 "This is awesome," said Adrion Roberson, a youth coach of 30 years. "With all of the stuff going on with the concussions, I think for us as USA Football members, it continues to put out in the public that the NFL supports what we're doing with the Heads Up program and a lot of the initiatives that are now going on across the country to really make football safe for kids."
Heads Up Football is a program developed by USA Football to better player safety in the sport, namely by educating the public on different aspects such as concussion recognition and response, the dangers of heat and hydration, sudden cardiac arrest, proper equipment fitting and Heads Up tackling and blocking.
 "This is a technique sport, and the technique they're teaching at USA Football is huge," said head coach Andy Reid. "I can tell you everything my youth coach taught me to this day, so it's so important that our youth coaches teach the right things, teach the proper fundamentals."
---