Arrowhead Art Collection | Kansas City Chiefs - Chiefs.com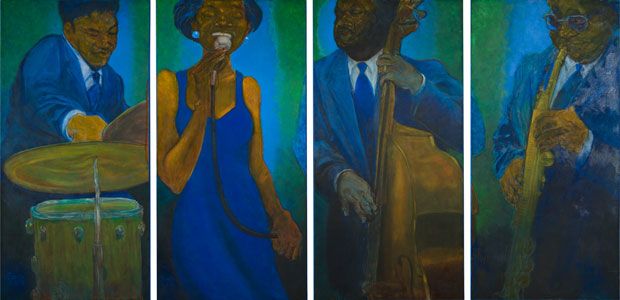 Bluerooming, 2015
Acrylic on Canvas
Powell believes that of all of the arts, music is the most portable. Music is not confined to a book or a page, nor is it confined to concert halls, theaters, walls or galleries. Growing up in Kansas City during segregation, Powell's early life was shaped by music and his work often features jazz performers.
Bluerooming takes its title from The Blue Room, a venerable jazz club located in Kansas City's historic 18th and Vine District. The musicians depicted in this polyptych are not portraits of individual artists. Instead, the figures are inspired by all the musicians -- past and present -- who performed at the Blue Room and helped create "the Kanas City Sound."
Powell has contributed to the Kanas City art community as an educator in Kansas City schools. He served as a charter board member and president of the Black Archives of Mid-America.
Lonnie Powell