On Saturday evening, Kansas City Chiefs' head coach Andy Reid stopped by Arrowhead Stadium for the organizations' inaugural Season Ticket Member pickup party for an exclusive meet-and-greet and Q&A session with fans.
The event, which was new this year, was an exclusive party for Chiefs' season ticket members who took the option to pick up their tickets in person, and in turn, they got exclusive behind-the-scenes access as well.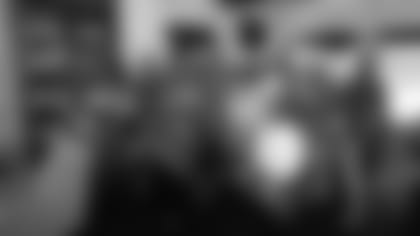 That access came in the form of being the first to try the new Kingdom Blonde Ale, which is a new beer that's available at Arrowhead Stadium this year and is made specifically for Chiefs' fans. The beer was a hit as the crowd in attendance drank all of the available beer within the first hour. Fans also had the chance for self-guided tours of the Chiefs' locker room and Hall of Honor.
And finally, it also included the chance to witness an exclusive Q&A session with Reid, who was getting set to leave for St. Joseph, Missouri, as Chiefs' training camp begins this week.
Furthermore, if the reaction from Reid and the 700 or so Chiefs' fans in attendance is any indication of the excitement this community has for the 2018 season, the next few months is going to be a whole lot of fun.
Here's a little bit of what Reid said during his time on stage:
On Chiefs fans, Arrowhead Stadium, and how we're all in this together:
"When we come out of the tunnel before the game, we know that you're there," Reid said. "Everyone one of you. We can feel you. You're always hearing players say it, and you're hearing me say it. All this support—we love it, and most of all, we love bringing other teams here and just letting you gash them."
(Just seconds after Reid finished that line, the fans in attendance all started doing "The Chop.")
On expectations for the 2018 season:
"We keep our expectations high," he said. "We're all in the same boat here. You want perfection. We want perfection."
On what's special about training camp:
"We come together as a team," he explained. "It's one of the great things about training camp—it's getting everyone away and going up to St. Joseph. We've got everyone housed in the dorm—it's close quarters."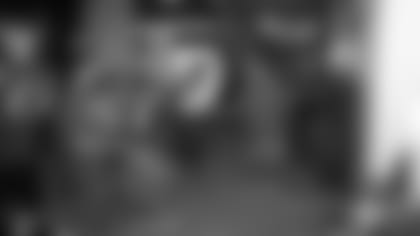 On second-year quarterback Patrick Mahomes:
"He's like a sponge right now," Reid said. "He's young, aggressive, and he's got great talent. He just needs that experience. But the part that I love is that he's willing to work. A lot of these [NFL quarterbacks] have always had all the pats on the back, and they back off their game. [Mahomes] has a great opportunity with a great franchise and a great surrounding group of players. And when you're around him, you feel this energy, man. It's phenomenal energy, and you're going to love it, and you're all going to get a chance to see it."
"And Kansas City hasn't had their own quarterback here for a long time—someone who was drafted and taken high." (The crowd also started cheering very loudly here).
On receiver Sammy Watkins:
"He's wired the right way upstairs," Reid explained. "He wants to dominate every play. We saw it during OTAs when he had chances to go 1-on-1 with people, he wanted to destroy you. And what that does is it develops great confidence with your quarterback.
"As a receiver, you want your quarterback to know that if it's third-and-1, or third-and 2, that if coach doesn't call a run and we throw it to you—1-on-1, bump-and-run coverage—that I'm going to destroy you."
Reid also spoke about veteran safety and team leader Eric Berry and what makes him so special, plus the new additions on the defensive side of the ball, and much more.
Based on the success of the event and that everyone seemed to have a great time, it looks like an event that will continue on in the future. It's just another perk of being a Chiefs' season ticket member.
For more information on all the opportunities, access and benefits of being a STM, follow this link.
Chiefs Season Ticket Members pick up tickets and sample the new Kingdom Ale in an exclusive event on Saturday.