A photograph can be powerful. It possesses the ability to capture the raw emotion of a singular moment through an otherwise fleeting snippet of time, whether that be the thrill of a postseason victory or a fan simply experiencing their first Chiefs' game.
We're going to explore 10 of those moments over the next several weeks along with commentary from Chiefs' team photographer Steve Sanders, who has been on the job for more than a decade. Sanders hand-selected each of the 10 photos featured in this series as his personal favorites, picking a variety of images from the 2021 campaign.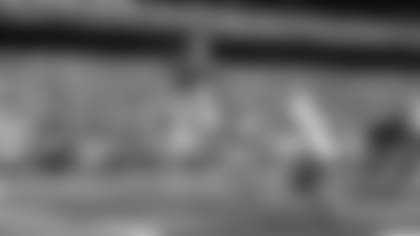 Game: Week 3 vs. Los Angeles Chargers
The Subject: Tight end Jody Fortson catches his first career touchdown.
Taken By: Maddie Washburn
Camera Model: Canon EOS-1D X Mark II
Q: Tell us about this photo and how your team captured it.
Sanders: "This was taken by our seasonal photographer in 2021, Maddie Washburn, who was working her first day game at GEHA Field at Arrowhead Stadium. She was positioned in the end zone and ready for what might happen," Sanders said. "Maddie chose the right lens so that she could capture a great perspective of anything that happened in the back of the end zone, putting herself in the perfect position to photograph Jody's first career touchdown. This was exciting for Jody, too. He had been working really hard and is a super enthusiastic player. He was trying his best to get an opportunity, and he made the most of it."
Q: When it comes to your seasonal staff, you're a teacher and a mentor. With that in mind, how exciting is it for you when one of your seasonals captures such a great shot?
Sanders: "You're just excited for them because you know that feeling when you capture something special. When that happens for someone who you've mentored and taught, it's just super exciting," Sanders said. "This shot is peak action – he just caught the ball – and there's a certain anticipation that he's going to come down with it for the touchdown. None of the other players, other than the defensive backs, know that he has it yet, so you can just anticipate what the celebration is going to be like."
Q: Can you speak to the mental preparation that contributes to a shot like this?
Sanders: "Sure. First, think about where the ball is, and with that in mind, decide where you want to be in relation to it. You have a 50-50 shot that it might come your way, so you want to prepare yourself with the right lens. In this case, she was shooting with a 70-200 mm, so if the play went away from her, the lens would allow her to zoom in, but because it was coming right at her, she was able to stay wide," Sanders explained. "This lens isn't super wide, but she can still focus on the action coming right at her while also capturing a good perspective of the stadium. I had suggested this approach for when things were moving toward her at training camp, and this shot demonstrated that she remembered it."