A photograph can be powerful. It possesses the ability to capture the raw emotion of a singular moment through an otherwise fleeting snippet of time, whether that be the thrill of a postseason victory or a fan simply experiencing their first Chiefs' game.
We're going to explore 10 of those moments over the next several weeks along with commentary from Chiefs' team photographer Steve Sanders, who has been on the job for more than a decade. Sanders hand-selected each of the 10 photos featured in this series as his personal favorites, picking a variety of images from the 2021 campaign.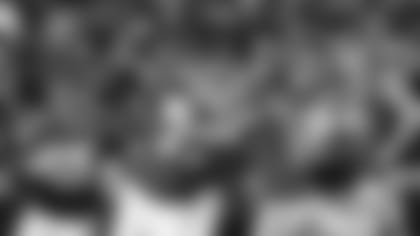 Game: Wild Card Game vs. Pittsburgh
The Subject: Offensive lineman Nick Allegretti celebrates after catching a 1-yard touchdown on a tackle-eligible play.
Camera Model: Canon EOS-1D X Mark III
Q: Walk us through this moment and what led to this photo.
Sanders: "This was a tackle-eligible play, and watching at practice, you'll see these kinds of things from time to time. I normally think, 'Oh, this is never going to happen,' but, the way that the defense lined up, it kind of looked like it might," Sanders recalled. "We had great coverage of this moment from all of our photographers. Just the emotion from Nick and everybody around him, you can tell that they're happy for him. They all have big smiles."
Q: Can you speak about the raw joy in this photo?
Sanders: "Everybody is happy when they score a touchdown, but it's even more special when an offensive tackle gets to go in there on a play like this. When they catch that ball with those big mitts and they run across the line, they're just elated with joy and happiness," Sanders said. "You can see it here. His eyes are closed, his arms are up and he's just yelling for joy."
Q: Do you know if Nick has seen this photo?
Sanders: "Yeah, he has. We actually sent him a copy because he wanted his grandfather to have it," Sanders said. "That's part of what we do. I love when the players want the images that we create."