In sports, true character emerges not during the effortless moments, but in the face of adversity. Against the pressure-packed backdrop of the game against the New York Jets, safety Bryan Cook's crucial tackle went beyond merely saving the game – it showcased the steadfast spirit of the Chiefs' defense.
With the score tied at 20-20 and the Jets' Breece Hall seemingly en route to the end zone, it was Cook's game-changing tackle that swayed the momentum, leading the Chiefs to a 23-20 victory. Veteran safety Mike Edwards didn't hold back when praising Cook's play.
"I mean, it might go down like, 'Oh, he just tackled them.' But no! [Hall] has a whole field – and a blocker – in front of him," Edwards said. "That's real tough."
Echoing the importance of that moment, Edwards added, "I told him right after the play... Look at the score! The score wouldn't be what it is right now if it wasn't for you."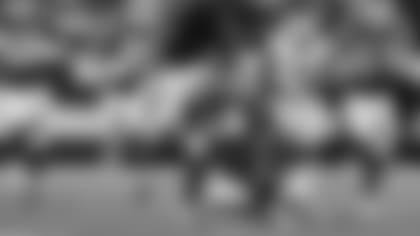 Reflecting on his role and the teamwork involved, Cook remarked, "I think for the biggest part, just shout out to my teammates that were hustling to the ball from the back end." He then commented on his mindset, adding, "The confidence that I have is [that] the team has confidence in me – it gives me the boost to keep going...I just want to be able to have my teammates depend on me back there and handle everything."
When addressing the significance of his tackle, Cook stressed, "It's pivotal, because at the end of the day, I'm the last line of defense."
Defensive Coordinator Spagnuolo drew parallels to a past game where Hall broke free a similar play against Buffalo.
"We watched a clip of No. 20 run that same play against Buffalo...and he was gone. They caught him at the 10-yard line, but that deep safety didn't make that same play. Thankfully, [Cook] made it."
Lauding Cook's progress, Spagnuolo said the play was "indicative of his improvement."
Spagnuolo and Cook are united in their belief about the foundation of the Chiefs' defense, summarized into two words: "Confidence and Chemistry."
"Confidence in the player next to me, confidence in the game plan," Cook said. "You have to have confidence all around to be a solidified defense."
This shared philosophy underscores the Chiefs' defensive unity. Moreover, Cook's self-reflective attitude highlights the rigorous standards each player adheres to, elevating the defense's collective drive.
"Even in the moment, I'm still hard on myself," Cook said. "I'm thinking about corrections I could've made now and moving forward."
Cook's standout tackle represented more than just a game highlight. It encapsulated the essence of the Chiefs' defensive ethos: a fusion of talent, unity, and trust, all grounded in the principle of "Confidence and Chemistry."