Football returned to Arrowhead Stadium on Thursday night as the Kansas City Chiefs kicked off the preseason against the Houston Texans, but for a 34th consecutive year, this particular game was about much more than the final score.
It was the Chiefs Charity Game - recognized as the top philanthropic game of its type in the NFL - and once again, it directly supported a non-profit organization right here in Kansas City.
That organization this season was Cornerstones of Care – which partners with local children and families in an effort to create safe and healthy communities throughout the Greater Kansas City area – and at halftime, Chiefs Chairman and CEO Clark Hunt and his wife, Tavia, presented the non-profit with a check for $485,000.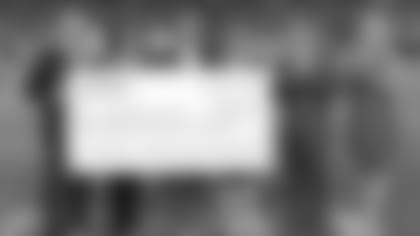 It's a figure that will go a long way in assisting Cornerstones of Care's initiatives.
"The influx in dollars is significant, and to be able to augment the other resources that we have is really important," said Denise Cross, the President and CEO of Cornerstones of Care. "It really will help us bring new services, new evidence-based practices and help us partner in different ways with other organizations. It gives us a lift that would be very hard to do just on our own."
The Charity Game has raised nearly $13 million since its inception in 1985 - generating close to $6 million in the last decade alone – though as significant as those numbers are, the game's impact is felt beyond just dollars and cents.
"For us, this really represents an opportunity to raise awareness for the children and families that we serve and the needs that they have," Cross said. "It's also about sharing with the broader community the impact that we're trying to have, and of course, it will help bring resources to the services that we provide."
Cornerstones of Care works with children, young adults and families to achieve safety and health through a variety of areas, including education, mental and behavioral health, foster care and adoption, youth support, family support and community trainings. Annually, Cornerstones of Care serves more than 7,000 children and families in Kansas, Missouri and beyond.
"I can't even tell you what a lifeline Cornerstones of Care is for us," said Tina Hackett, one of the foster parents that Cornerstones of Care assists. "We, as foster parents, need all of the support that we can get when we take in these kids. They've been traumatized – whether it's through their handicaps, physical abuse or another reason. We need that lifeline, and Cornerstones is that for us."
And for the Chiefs, it's a partnership that goes beyond just Thursday's contest.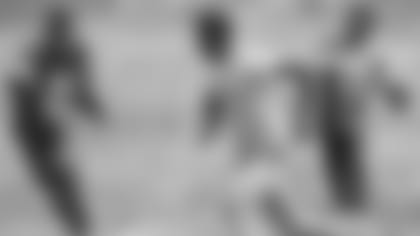 As recently as last week, a handful of foster families were on hand at Training Camp before participating in the Helmet Walk following practice, and at the game itself, Pam Sanders – who has been working at Cornerstones of Care for more than 30 years – threw out the ceremonial first pass prior to kickoff.
Those experiences were all just a continuation of the Chiefs and the Hunt Family Foundation's ongoing commitment to being a charitable force in the lives of others – a feat that Cornerstones of Care will be better equipped to achieve following the Charity Game.
"Cornerstones helps these kids in a sense where they don't have to be a certain way anymore," Hackett said. "They can be a kid again."