It was a near perfect afternoon at Cornerstones of Care's Ozanam Campus on Tuesday as the Kansas City Chiefs' wide receivers, accompanied by some beautiful spring weather, hosted a Play 60 clinic for over two dozen kids.
The players – receivers Tyreek Hill, Sammy Watkins, Demarcus Robinson, De'Anthony Thomas, Daniel Braverman, Gehrig Dieter, Brandon Shippen and Nelson Spruce – led the group in a variety of football-related drills all the while embracing their inner-kid in the process.
"This is the best part of our job," Watkins said. "Out here I can just be a big kid, have fun, play with the kids and enjoy this time while showing that we really (care about) the community. We came here trying to make their day and just as much as we're doing that for them, they're making ours, too."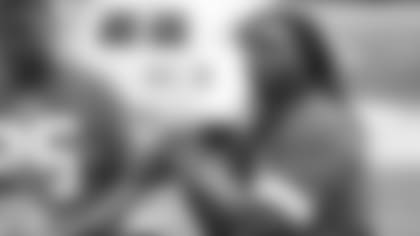 The Chiefs have made the NFL's Play 60 initiative, which encourages kids to embrace a healthy lifestyle as they grow up, a priority since the campaign launched in 2007.
"It's so important," Robinson said. "You have to learn to get out and be active for at least 60 minutes a day. Just getting some work in each day is very important."
The site of the event, Cornerstones of Care, has served children, young adults and families in Greater Kansas City since 1870, striving to improve safety and health through six key service areas: education, mental and behavioral health, foster care, adoption, youth support and community trainings. The non-profit served 7,000 children and families last year alone while training another 4,000 community members.
That meaningful work caught the eye of the Chiefs, who chose Cornerstones of Care as the beneficiary of the Chiefs Charity Game for the next three seasons.
Recognized as the top philanthropic game of its kind in the NFL, the Chiefs Charity Game exemplifies the franchise's long-standing commitment of supporting the Kansas City community. Since its inception in 1985, the game has raised more than $13.3 million for local charities.
"We're so excited," said Denise Cross, the President and CEO of Cornerstones of Care. "This will not only help us financially, but it will help us expand our mission and do more of the work we're doing today, tomorrow and beyond."
And in the short term, that mission on Tuesday was to provide a handful of kids with an experience of a lifetime.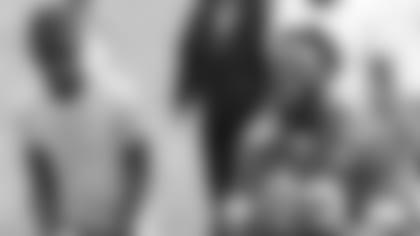 "It really gives these young people an opportunity to see leaders and people with a high profile in the community spend some time with them and show that there are folks out there that really care about their health and their wellbeing," Cross said. "These youth have never had an opportunity like this and it just gives them an experience that they may not have otherwise had."
The Chiefs wide receivers join children on the adjacent playground for some fun Play60 activities at Cornerstones of Care, Gillis Center Campus.