Laurent Duvernay-Tardif donned his practice jersey on Tuesday morning, clad in red and with a helmet in hand for the first time in nearly 500 days. This was the veteran offensive guard's first time on the football field since Kansas City won Super Bowl LIV over 16 months ago, trading his cleats for a mask and scrubs to battle the COVID-19 pandemic in his native Canada during the time since.
It was just the first practice of mandatory minicamp on Tuesday – a building block in the offseason program – but for Duvernay-Tardif, this was much more than that.
"I think [being away] helped me realize how privileged I am to play in the biggest sports league in the world. It made me realize that football doesn't last forever," Duvernay-Tardif said. "That feeling of winning at [GEHA Field at] Arrowhead in front of 80,000 people is just nuts, and I want to make sure I'm still on the field to feel that [later this year]."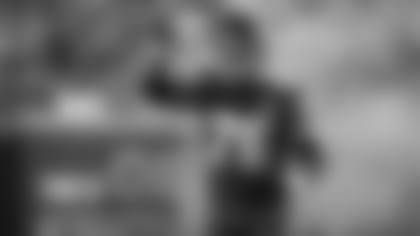 It's an opportunity for the 29-year-old Duvernay-Tardif - who earned his Doctorate in Medicine in 2018 - to finally get back to football after a year on the frontlines combatting the pandemic at a long-term care facility in Montreal. The seven-year veteran felt that he was in the right place at the right moment and had a duty to put his training to use for a world in desperate need last year, ultimately choosing to opt out of the 2020 campaign to serve others.
It was a decision rooted in his character and supported wholeheartedly by the Chiefs' locker room, demonstrating the unique bond present at One Arrowhead Drive that Duvernay-Tardif carried with him during the most difficult of times.
"Sometimes I was a nurse, sometimes I was an orderly and sometimes I was a resident. I was basically helping where help was needed. It was tough and we lost a lot of patients," Duvernay-Tardif said. "So, at the end of the day, watching the Chiefs on Sunday was one of the things that kept me grounded."
It wasn't just Duvernay-Tardif, either, as his patients became fans of the 2019 Super Bowl champions, too, amidst their individual battles because of his presence.
"On Mondays, as I would go from patient room to patient room, I'd watch the replays from the game that previous Sunday on TV," Duvernay-Tardif explained. "It was cool because the patients were all behind the Chiefs, too. It was like Chiefs Kingdom in Montreal."
It also helped Duvernay-Tardif remain mindful of a return to football once the pandemic subsided. In a similar sense to how he managed to balance his medical studies with football throughout his first several seasons with the Chiefs, the former sixth-round pick made sure to stay in shape – albeit in a creative way - during his time away despite the daily demands of being a medical professional.
"I built a little gym on my balcony and [trained] outside because that's all I was allowed to do through quarantine," Duvernay-Tardif said, encouraging those interested to check out his Instagram page for a closer look. "I had a pretty good setup. Don't get me wrong, it was cold, but I had some heaters set up and basically trained four times a week for the past year. I feel like I'm in pretty good shape."
Now finally back in town and graduated from his makeshift gym, Duvernay-Tardif has the full breadth of the Chiefs' facilities available to him as he competes for a spot along Kansas City's remade offensive line. The Chiefs invested heavily in the unit this offseason, making numerous high-profile acquisitions over the last several months in an effort to strengthen their depth in the trenches.
Duvernay-Tardif's return certainly bolsters that depth, and while there are several new faces up front nowadays, he believes that the chemistry needed to succeed as an offensive line is already in the works.
"It's a new group out there, but it's crazy how they welcomed me today. I really loved that, and I feel like we're going to have a great group of guys," Duvernay-Tardif said. "They're awesome dudes and I'm just excited to be here."
And while Duvernay-Tardif returned to the field on Tuesday, it's worth noting that his medical pursuits are still very much underway. He's currently working on obtaining a Master of Public Heath degree from Harvard in an effort to help others on an even larger scale, once again seizing what he believes is his responsibility to the masses.
He's a man driven by purpose – whether that be saving lives or blocking for Chiefs' quarterback Patrick Mahomes - and after a year removed from his other career on the football field, Duvernay-Tardif can't wait to get back to work.  
"When it comes to being in 'football shape,' the [best way to do that] is just by playing football," Duvernay-Tardif said. "Today was a great day - I think it was a great start - and I'm looking forward to more."